Love & Marriage
Sometimes I just stand and stare at our wedding picture from December 14, 1962 and think, "What a couple of twitterpated kids who didn't know what they were getting themselves into!" (Della certainly did not realize the huge responsibility she was undertaking!) But nobody nullfified our wedding vows before God and everybody, so we just keep on ridin' in that horse and carriage that go together like love and marriage.
It has been now well over 60 years, and we've had our share of spats and conflicts as well as some deep heartaches that go with being married and becoming parents, grandparents, and great grandparents, but "we wouldn't take nothin' for our journey now – we're gonna make it somehow!" Our love is tested and deeper, the family ties are sweeter and heartaches are minimal compared to the abundant riches of God's grace and peace that passes all understanding. So, if you are experiencing conflict, confusion, or frustration in your marriage, "turn your eyes upon Jesus, look full in His wonderful face" and ask Him, "Lord, what would You have me do?" Then hang on and keep ridin' in that horse and carriage! It will be worth it all (especially when we see Jesus, and when we see each other in the light of His abounding grace and truth)!
How about Starting Every Day with Three Prayers?
First – "Father, thank You so much for giving us the greatest gift ever given – Your only begotten Son. Jesus, thank You for giving us Your life, Your own precious blood to pay the penalty for our sin (my sin!). Holy Spirit, thank You for empowering Jesus to go all the way for us – to endure the torture and death on the cross for me! Thank You for empowering the prophets and apostles to write infallible Scripture; thank You for giving us the Bible!"
Second – Lord, please fill me with Your Spirit and put me in the right place at the right time with the right words to honor You!" Watch what He does in you and through you – and get prepared to be "Most Richly Blessed!"
Third – "Lord, what would You have me do today? Please give me the wisdom to prioritize the use of my time." Then focus on one task at a time, perform that task with joy, then move to the next.
Are You Seeking the Will of God for Your Life?
Consider this pertinent advice: "… As you follow the direction of the Word, you will be led to walk into the exact and specific will of God that is your destiny. You see, the Scriptures are not so much focused on finding the will of God that you don't know, but on obeying the will of God that you do. Obey the will of God you do know, and it will lead you to the will of God you don't. Follow, with all your heart, that which is revealed, and it will lead you into that which is not…" ~ Jonathan Cahn
I Wonder, I Wonder!
Oh, Lord, as I consider the insidious tactics of this Marxist takeover of our government with a stolen election, a fake riot on January 6, 2021 (while ignoring many actual, violent riots by their comrades), the imprisonment of innocent patriots on false charges, the frenzy of rabid pro-abortionists viciously attacking pro-life pregnancy centers and churches, the mutilation of the bodies of so-called transgender kids confused by "woke" indoctrinators, vicious lawsuits against Christians standing for their freedom of speech and expression, etc., it leaves me confused with conflicting emotions. I know, Lord Jesus, that you said: "You have heard the law that says, 'Love your neighbor and hate your enemy. But I say, love your enemies! Pray for those who persecute you! In that way, you will be acting as true children of your Father in heaven. For he gives his sunlight to both the evil and the good, and he sends rain on the just and the unjust alike.'" Matthew 5:43-45 (NLT)
I love You, Lord – and I want to obey You! But first, will you let me pray like Asaph did in Psalm 83? "O, God, do not be silent! Do not be deaf. Do not be quiet, O God. Don't you hear the uproar of your enemies? Don't you see that your arrogant enemies are rising up? They devise crafty schemes against your people; they conspire against your precious ones… O my God, scatter them like tumbleweed, like chaff before the wind! As a fire burns a forest and as a flame sets mountains ablaze, chase them with your fierce storm; terrify them with your tempest. Utterly disgrace them until they submit to your name, O Lord. Let them be ashamed and terrified forever. Let them die in disgrace. Then they will learn that you alone are called the Lord, that you alone are the Most High, supreme over all the earth." Psalm 83:1-3, 13-18 (NLT)
Dear God, that prayer does seem so appropriate and pertinent to our situation here in America, but I will refrain from praying it now, and cast all my cares and frustrations on you. Please fill me with Your Spirit to love our enemies as You told us to – and leave the results to You! And also, please fill me with Your peace that passes all understanding. In Jesus' name, Rick
What About the Lost Souls Who Have Never Heard of Jesus?
Are they Condemned for Not Believing in Someone They Have Never Heard of?
I'm sharing with you a portion of an article by Jonathan Turner entitled "Why Bother," and then what I wrote to him about it.
"…No doubt you've heard that old excuse for not accepting the Gospel, 'If Jesus is the only way to be saved, what about the guy in outer Mongolia who never had the chance to hear about Jesus?' It's always struck me as pretty stupid to refuse the one sure way of salvation we know about just because God might have some other hypothetical way for some hypothetical person in some hypothetical place, about whose heart and circumstances we know nothing. Even should this hypothetical alternative exist (which it almost certainly doesn't) why should God grant me another way to avoid hell when I've turned down the way of salvation He's already shown me?
However, if someone isn't using the guy in Mongolia as an excuse to not obey, it's a good question. How will God judge those who haven't heard the Gospel? In my Thursday class for church leaders in Pakistan we're studying the book of Romans – which is the most systematic exposition of the Gospel and the process of salvation there is in the New Testament. Sure enough, as we were going through chapter two, the destiny of those who haven't had the opportunity to hear about Christ came up. Paul writes that those who are without the Law are a law unto themselves and will be judged accordingly. 'Here's how I understand what Paul wrote,' I said. 'God looks at what a person did with the truth he knew and extrapolates what he would have done had he known about Jesus. If he would have accepted Christ had he had the opportunity, God will accept him…'"
My reply:
Good morning, Jonathan. I really appreciate your papers you sent concerning how to witness to Muslims – and I've made some changes in my approach to Talel. Please pray for him.
Next, concerning the throbbing question you brought up in your July Snippet, I believe you gave the right answer, and I also believe that it can be solidly verified from Scripture:
Almighty God judges according to truth – and in accord with what a person does with the truth he or she has already been given. "The coming of the lawless one is according to the working of Satan, with all power, signs, and lying wonders, and with all unrighteous deception among those who perish, because they did not receive the love of the truth, that they might be saved." 2 Thessalonians 2:9-10 (NKJV)
No matter whether it is in deep Africa, outer Mongolia, or deep, dark NYC, every human being on earth knows Jesus exists – even if he or she has never heard His name! Why? Because He is the Creator! "For the wrath of God is revealed from heaven against all ungodliness and unrighteousness of men, who suppress the truth in unrighteousness, because what may be known of God is manifest in them, for God has shown it to them. For since the creation of the world His invisible attributes are clearly seen, being understood by the things that are made, even His eternal power and Godhead, so that they are without excuse," Romans 1:18-20 (NKJV) The apostle John wrote: "In the beginning was the Word, and the Word was with God, and the Word was God. He was in the beginning with God. All things were made through Him, and without Him nothing was made that was made… And the Word became flesh and dwelt among us, and we beheld His glory, the glory as of the only begotten of the Father, full of grace and truth." John 1:1-3, 14 (NKJV)
While in His human body on earth, Jesus Himself said: "Ask, and it will be given to you; seek, and you will find; knock, and it will be opened to you. For everyone who asks receives, and he who seeks finds, and to him who knocks it will be opened." Matthew 7:7-8 (NKJV) Therefore, Almighty God – Father, Son, Holy Spirit, Who showed His overwhelming love for us on that old rugged cross on Calvary – will reveal Himself to anyone who truly seeks Him and His truth , and will send His messenger to lead him Home to Jesus! (See Acts 8:26-39) Respectfully yours & His, Rick
Probing Question
Are you seeking the will of God in your life with all your heart, or are you praying prayers that indicate that you want God to do for you what you want, when you want, and how you want? If not, you might get mad and walk out on Him! Instead, may the resurrected Lord Jesus be always your joy, your hope, your comfort, your strength and victory! May you come to know Him deeper, love Him dearer and follow Him nearer! "Now may the God of hope fill you with all peace and joy as you trust in Him so that you may overflow with hope by the power of the Holy Spirit." Romans 15:13

Lonely Was Jesus
By Ed Saunders
Lonely was Jesus, I am sure.
Troubles He had, to endure.
He had no place to lay his head.
He had no soft, downy bed.
He walked alone for forty days,
Tempted and tried, yet to sing, God's praise.
In the garden, alone, He prayed to God.
Not my will, Thine be done.
While all forsaken
And His heart was breakin'.
All alone He bore our sin that day.
Taking them forever away.
Lonely was Jesus, our King of kings.
And thus being so, to us, joy He brings.
The Burdens We Bear
By Shasta Hutton
As we go through life there are burdens we bear,
Made of trials we face and each sorrow and care.
Sometimes we can bear them quite well it would seem.
They don't affect much of our joy or our gleam.
They don't last very long and come one at a time,
So we get on with life and bear them just fine.
We feel like we cannot go on with each day,
Yet life still goes on so we must find a way.
Crying helps some, but we can't cry all day,
So we carry our burdens to God and we pray.
We pray that He takes all our burdens away.
We pray that He brings back His joy to each day.
But we must remember He is God and King,
And we must accept the answer He brings.
Sometimes He reminds us through trials we grow.
Sometimes He gives burdens His glory to show.
No matter His answer He holds us real tight,
And carries each burden and helps through the night.
And though burdens won't instantly all fall away,
He'll send us the strength that we need for each day.
So let us draw close to our Father and King,
Who gives us true hope that only He brings.

"Not only that, but we rejoice in our sufferings, knowing that suffering produces endurance, and endurance produces character, and character produces hope, and hope does not put us to shame, because God's love has been poured into our hearts through the Holy Spirit who has been given to us." Romans 3:3-5
Endangered Species?
Have you noticed that it is fairly common for leftist environmentalists to suggest and promote candidates for endangered species, such as certain whales and spotted owls? I want to suggest another candidate be considered as an endangered species – a leftist with a lick of common sense! 😊 Also, have you noticed that the term "common sense" has almost become an oxymoron? Why? Because common sense in our barrage of "woke" philosophy is so uncommon! For example: promoting the transgender fantasy, displaying pornography in libraries and on internet, plus parading perversity down America's main streets defies all boundaries of common sense, but these do fit the Marxist agenda of how to destroy America!
The Keys to World Evangelism
Does the Word of God give us any clue to God's priorities (keys) to evangelizing the world? Yes, definitely! In Jesus' high priestly prayer on the night before He gave Himself as the payment (sacrifice) to pay the penalty for our sins, He prayed first for Himself, then for His apostles, then for all of us who trust Him for our salvation. Please note: "Now I am no longer in the world, but these are in the world, and I come to You. Holy Father, keep through Your name those whom You have given Me, that they may be one as We are. While I was with them in the world, I kept them in Your name. Those whom You gave Me I have kept; and none of them is lost except the son of perdition, that the Scripture might be fulfilled. But now I come to You, and these things I speak in the world, that they may have My joy fulfilled in themselves. I have given them Your word; and the world has hated them because they are not of the world, just as I am not of the world. I do not pray that You should take them out of the world, but that You should keep them from the evil one. They are not of the world, just as I am not of the world. Sanctify them by Your truth. Your word is truth. As You sent Me into the world, I also have sent them into the world. And for their sakes I sanctify Myself, that they also may be sanctified by the truth. I do not pray for these alone, but also for those who will believe in Me through their word; that they all may be one, as You, Father, are in Me, and I in You; that they also may be one in Us, that the world may believe that You sent Me." John 17:11-21 (NKJV)
The first key to world evangelism is the unity of His followers by the love of Jesus and the power of His Spirit.
The second key is sanctity by the truth of the Word of God. (Please note again verse 17: "Sanctify them by Your truth. Your word is truth.")
The third key is what Jesus gave the apostles later, just before His ascension into heaven, in what we call "The Great Commission": "All authority has been given to Me in heaven and on earth. Go therefore and make disciples of all the nations, baptizing them in the name of the Father and of the Son and of the Holy Spirit, teaching them to observe all things that I have commanded you; and lo, I am with you always, even to the end of the age.' Amen." Matthew 28:18-20 (NKJV)
The fourth key is earnest prayer! "Time spent in prayer will yield more than that given to work, its worth and its success." ~ Andrew Murray "And take the helmet of salvation, and the sword of the Spirit, which is the word of God; praying always with all prayer and supplication in the Spirit, being watchful to this end with all perseverance and supplication for all the saints—and for me, that utterance may be given to me, that I may open my mouth boldly to make known the mystery of the gospel, for which I am an ambassador in chains; that in it I may speak boldly, as I ought to speak." Ephesians 6:17-20 (NKJV)
I don't notice anything in the Word of God about using contemporary marketing techniques or compromising with worldly standards of morality (immorality) as the keys to world evangelism, do you?
We Are One
Jim Scott
We are bound together by His, precious blood
Unchained from sin and death, now free to love.
God's Royal Law on earth, His Kingdom come
One faith, One hope, Salvation sure to come.
You've set us free and now we worship You
No other name can save us, it is true.
Our hearts and hopes and thoughts, all set anew
Born again to give all praise, and honor You.
We declare Your name Lord Jesus, risen Son!
King of kings, Lord of lords, Holy One!
Your love unites and bid's us, all to "Come!"
In Your Spirt, Lord Jesus, we are One.
The world looks on to test and, rail our claims
To judge our lives and mock Your, holy name.
The Way, the Truth, and Life in You we gain
So let us walk in love, and speak Your saving name.
Saints and Soldiers, we're called to face the trials
The battle rages on, there's no denial.
Walk by faith, follow Jesus, trust and rest
The Word of God will, forever, stand the test!
We declare Your name Lord Jesus, risen Son!
King of kings, Lord of lords, Holy One!
Your love unites and bid's us, all to "Come!"
In Your Spirt, Lord Jesus, we are One.
Lord shine Your light, and guide our every step
Heal our wounds, give us strength, and grant us rest.
Heaven calls us to Your throne of saving Grace
Holy Spirit, prepare us for our first embrace.
We sing Your song, we lift our hopes and dreams
Your Spirit rises to embrace our loving praise.                    
We'll rise and fall, and stand together, in Your name
And we'll sing Your song, until the end of days.
We declare Your name Lord Jesus, risen Son!
King of kings, Lord of lords, Holy One!
Your love unites and bids us, all to "Come!"
In Your Spirt, Lord Jesus, we are One.
In Your Spirit, Lord Jesus, we are One.
In Your Spirit, ..Lord Jesus, ..we are One.
Holy Spirit, …unite us in …Your bond of Love.
Copyright © 2023 Jim Scott. All Rights Reserved. Used by permission.
Trials & Tests
'It's only for a season,'
is how the saying goes,
But how long will be the season,
only the good Lord knows.
Sometimes a season comes and goes,
and time goes by so fast,
Like when your kids are little
and you want that time to last.
Sometimes a season lasts so long,
it seems to never end,
Like when praying for the healing
of a loved one or a friend.
No matter what the season
God is working out His plan,
And walking right there with you
holding tightly to your hand.
~ Shasta Hutton
"But we have this treasure in earthen vessels, that the excellence of the power may be of God and not of us. We are hard-pressed on every side, yet not crushed; we are perplexed, but not in despair; persecuted, but not forsaken; struck down, but not destroyed—always carrying about in the body the dying of the Lord Jesus, that the life of Jesus also may be manifested in our body. For we who live are always delivered to death for Jesus' sake, that the life of Jesus also may be manifested in our mortal flesh. So then death is working in us, but life in you.
And since we have the same spirit of faith, according to what is written, "I believed and therefore I spoke," we also believe and therefore speak, knowing that He who raised up the Lord Jesus will also raise us up with Jesus, and will present us with you. For all things are for your sakes, that grace, having spread through the many, may cause thanksgiving to abound to the glory of God. Therefore we do not lose heart. Even though our outward man is perishing, yet the inward man is being renewed day by day. For our light affliction, which is but for a moment, is working for us a far more exceeding and eternal weight of glory, while we do not look at the things which are seen, but at the things which are not seen. For the things which are seen are temporary, but the things which are not seen are eternal." 2 Corinthians 4:7-18 (NKJV) "Now the Lord is the Spirit; and where the Spirit of the Lord is, there is liberty. But we all, with unveiled face, beholding as in a mirror the glory of the Lord, are being transformed into the same image from glory to glory, just as by the Spirit of the Lord." 2 Corinthians 3:17-18 (NKJV)
From Our Mailbox/Prayer Requests
"Sorry for not getting back to you earlier. This year has been very stressful. I'm working 2 jobs and am constantly on the move. Was in Germany for a work trip and remembered that I haven't emailed you in a while. The latest atrocity (blowing up of the dam and flooding of many villages and towns) have left us dumbstruck. I still need time to process what has happened.
My mom and sisters are back to Kharkiv. Mom found new job. Sometimes i wonder if i did the right thing not taking my family somewhere else. But I believed I should stay. Our lives are in His hands. I hope you and Della are keeping well. – In Christ, Katya"
* * * * * * * * * * * * * * * * * * * *
"Today, I urgently call upon you to join us in the race against time to rescue and support the victims of the devastating Kakhovka Dam explosion in the Kherson region of Ukraine and its subsequent impact on the war-affected region. TCI is seeking to raise $20,000 to provide immediate assistance, including evacuation and the distribution of  essential items such as drinking water, dry rations, water filters, pumps, and tools necessary for post-flood clean-up efforts in the Kherson Region. Please give now to ensure that critical aid can be delivered as soon as possible to those in desperate need. Allow me to provide further details on this pressing matter.
The explosion of the Kakhovka Dam has resulted in catastrophic flooding, affecting 80 towns and villages. Approximately 40,000 individuals are trapped in their homes in parts of Kherson, Oleshki, Hola Prystan, and other areas, necessitating urgent evacuation. In certain locations, the water has risen to 20 feet. By this afternoon, the affected villages are projected to be completely submerged, with water levels expected to recede over the next four to five days. This dire situation poses a significant threat to the lives and well-being of tens of thousands of people. Furthermore, the presence of Russian troops and their relentless shelling of the flooded areas intensify the urgency and complexity of the evacuation efforts. The affected population finds themselves caught between a rock and a hard place. TCI's objective is to provide essential assistance and support by conducting evacuation operations and addressing the imminent shortages of drinking water, dry rations, and tools required for post-flood clean-up efforts.
You have the opportunity to make a significant impact on the lives of these people by ensuring access to clean drinking water and food for the affected individuals and helping them to recover and rebuild their homes and livelihoods. Our goal is to provide 300 individual rescue sets at $50 each, totaling $15,000, and 10 pumps at $500 each, amounting to $5,000. With unwavering faith, our dedicated volunteers are already enroute to the affected area to provide immediate assistance. Thank you for helping meet the physical and spiritual needs of the struggling people of Ukraine.  – In Christ, Valentin Siniy (President of TCI)"
* * * * * * * * * * * * * * * * * * * *
"Thank you for the draft newsletter, Rick! It is always encouraging and thought-provoking to read your newsletters. So, thanks again for sharing. The section on world evangelism was particularly special! I do not know if you had a chance to listen to my sermon through the link I sent earlier….. I will appreciate any feedback regarding the content of my sermon." – Yours and His, Paul" (Sudhakar)
Paul is referring to his first sermon – and it has terrific content! He and his bride, Melody, are still in Australia (where he went to get his master's degree in astrophysics), and they are helping to bring truth, clarity, and reconciliation to a congregation that split. Please pray! – Rick
Consider This!
"Be God's man, in God's place, doing God's work according to the opportunity He has given you!" – Hudson Taylor
"Oh Say, Does That Star-Spangled Banner Yet Wave O'er the Land of the Free and the Home of the Brave?"
"We identify the flag with almost everything we hold dear on earth: peace, security, liberty, our family, our friends, our home … But when we look at our flag and behold it, emblazoned with all our rights, we must remember that it is equally a symbol of our duties. Every glory that we associate with it is the result of duty done." —Calvin Coolidge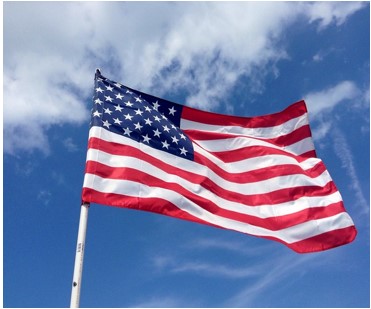 4th verse of The Star-Spangled Banner:
"Oh, thus be it ever when free men shall stand
Between their loved homes and the war's desolation;
Blest with vict'ry and peace, may the Heav'n-rescued land
Praise the Pow'r that hath made and preserved us a nation!
Then conquer we must, when our cause it is just;
And this be our motto: 'In God is our trust!'
And the Star-spangled banner in triumph shall wave
O'er the land of the free, and the home of the brave."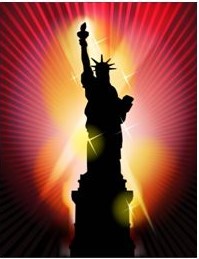 "Here is your country. Cherish these natural wonders, cherish the natural resources, cherish the history and romance as a sacred heritage, for your children and your children's children. Do not let selfish men or greedy interests skin your country of its beauty, its riches or its romance." —Theodore Roosevelt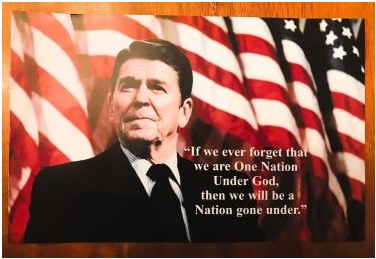 "This nation will remain the land of the free only so long as it is the home of the brave." —Elmer Davis