WARNING!
Don't read this book–if you are satisfied with the status quo and don't like to be challenged! However, if you yearn to expand your knowledge, to deepen your faith, and to strengthen your ability to answer tough questions from skeptical friends and family, keep turning these pages, absorbing the truths, and pondering the questions at the end of each chapter. If you understand and apply what you read, you are in for the thrill of your life! Especially, remember to pray daily, "Lord, please fill me with your Holy Spirit and put me in the right place at the right time with the right words to honor you." You will be amazed how God answers this prayer and uses you!
Download a PDF of the complete book, Ready To Give An Answer.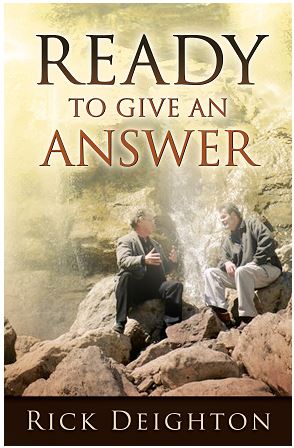 Reviews
Have you ever been challenged about sharing your faith in Christ? Have you ever been intimidated by the intellectual challenge from an atheist?
Come along side of Rick Deighton, author, and missionary on his personal journey, building a Christian apology for his faith in Christ, as God uses him to share the gospel to a world lost in unbelief.
Through Rick's eyes and experiences you will find encouragement and spiritual cement to help bind together those foundational beliefs we share in an Almighty God, our Creator, and Redeemer, the source of both reason, and Love.
Stephen Long
Elder and Layman, fellow believer in Christ.
*****************
How to become a bold witness for Jesus? How to help spiritual awakening in a society that was under the atheist rule over the decades? How to present Christian values and evidences in a clear and comprehensive way when addressing sophisticated minds of intellectuals? How to cut through their intellectual smokescreen to touch the heart with God's Truth? How to see the dangers that Evolutionism brought and still brings into the world?
In his remarkable attempt to answer these and other questions, Rick Deighton, a devoted God's minister, put his life-long personal experience of Christian faith, his gift of teaching, and all his love for the Creator into this very friendly and practical book.
After reading it in one night and re-reading with the same great delight afterwards, I would highly recommend "Ready To Give An Answer" by Rick Deighton for its precise and understandable style, subtle humor and indisputable value for the reader's spiritual growth.
Sergey Nikonorov
Assistant Professor at Kharkov Polytechnic University