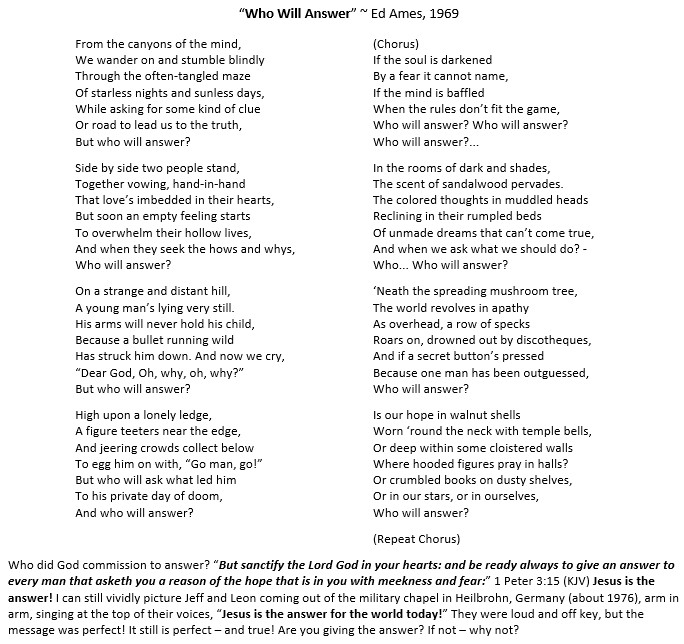 Why Does God Allow Sickness, Sorrow, Suffering?
(from an article by Charles McCoy)
"… In God's universe, we don't get to deal the cards but we do have some say in how we play the hand we are dealt.
Some of our problems are clearly our own doing – our failure to do what we know is right. If you really disagree with denominational teaching, false cults, and false religions and want the world evangelized for Christ, what are you doing to promote Biblical Christianity? The Church was supposed to be 'a ministering body' rather than 'a body with a minister'! Since real Christianity is spread by means of an objective message (Romans 10:14-17; 1 Corinthians 1:21), more teachers and fewer perpetual spectators would change this. Many sins have their own earthly penalities built-in – some of our problems are the predictable cause-effect results of our foolishness and/or carelessness. Sin still pays wages and some checks arrive before final payday!
God could change things – and He will. But for now, His power is perfected in weakness (2 Corinthians 12:9) – first through human patriarchs, then a nation of rebellious descendants, then by sending His promised Messianic Son into enemy territory as a baby, and now through all-too-human disciples. But I suspect that God gets a bit of a thrill from working His will this way rather than just imposing His power on everything. I'm glad that God gave me freedom of choice and action, but even happier that He is good, merciful, and has been patient in withholding judgment on sin as I have stumbled along learning about love and self-control. Patience may be one of His best gifts to us – after Jesus. Merry Christmas!" ~ Charles E. McCoy
"Merry Christmas!" Note – many of our European friends' biggest Christmas celebration is January 6 – Three Kings Day! (Actually, the Magi were the King-makers, not the kings!) And our European friends are not celebrating January 6 as Marxist Manipulation Day for tricking and trapping conservative patriots in their bogus Capital Riot – while ignoring over a year of Marxist violent riots from Portland, Oregon all across the nation!
The Greatest Weakness of the Left
"The greatest weakness of the Left is this inability to recognize evil and its simultaneous hatred of those who do fight evil." ~ Dennis Prager ~ What an insightful comment! Have you also noticed that these Marxist perpetrators of evil are very prone to accuse their opponents of doing what they are guilty of doing themselves? Now let's transition back to our main theme.
Three Sources of Affliction
Self-inflicted
Satan-inflicted – which God has allowed. Satan tempts us! God allows it to test us!
God-inflicted – for God's own purposes (which we often do not understand). Sometimes it is punishment for our sin – so it will urge us to repent in order to be forgiven, blessed, and effective in ministering to others who are troubled, tempted, and enduring trials.
Jesus
He came not to a throne,
But to a manger.
He lived not as a king,
But as a servant.
He chose not a kingdom,
But a cross.
He gave not just a little,
But everything.
~ Holley Gerth
Priorities of the Apostles
I came to Boise Bible College after graduation from high school with the intention of one year of intense study in the Word of God in order to be better grounded in my faith. However, within two months I was so enthralled with the deeper plunge in the glories of the Word of God that I knew this was the leading of the Holy Spirit and the calling of God for my life.
Even before my conversion, as a result of the truths presented to me by dedicated teachers in Bible classes, I had realized, "If this is really true, then the best thing I can do with my life is to share the light of truth with as many as possible!" So, by November or December of 1961, I was captivated with the wonderful truths of Scripture and wanted to be able to share these treasures. (What a contrast to my 10th grade English class, where we were assigned the task of preparing a research theme and presenting it orally to the class.) I told my teacher, "No!" I was determined not to make a speech before the class! However, she was very, very persuasive – when she told me that if I refused to make the speech, I would flunk her class – and be required to retake the class the next year. So, I reluctantly fulfilled the assignment and passed the class. Now I was excited to begin learning how to effectively communicate truth to others. (I had learned such exciting truth from God that I was bubbling with excitement to share it!)
(I should also confess that by November or December of 1961, I found myself enthralled with the beauty and captivating commitment to Christ of a lovely young lady, Della Qualey, who was also a BBC student and member of the local church where BBC classes were held.) By the next year, we were considering marriage, so I told her: "If you marry me, you are marrying a missionary." Della is primarily a home body, so she struggled with that fact – but agreed to marry me anyway! 😊
I love to study the Word of God, then enthusiastically share the Living Word from the Written Word in personal conversations, in teaching classes, in preaching messages. Our Overseas Outreach ministry has afforded me manifold opportunities to share the Word – from teaching Christian evidences for youth in Estonia to tutoring Bible and English lessons in Latvia, to presenting evidences to scientists, professors, and philosophers at The Man and the Christian Worldview Symposiums in Crimea, to schools, universities, classes, and churches across Ukraine and in Germany. Also, in USA, I've had opportunity to share His Word in many churches, especially here in the Northwest. However, for the past three years, I've not been back to Ukraine (which has been our primary focus for the past 21 years.) Here in USA, Covid shut-downs have greatly hindered opportunity for speaking appointments in churches.
Many years ago, an elder who didn't like me asked me: "Why don't you just forget about being an evangelist?" Later I told Della that he may just as well have asked me: "Why don't you just stop breathing?" What about retirement? Retire? From doing what I love? What is my recreation? Sharing the Word of God! What is my joy? Studying the Word of God for gems of truth I've overlooked!
So, what should I do now that my opportunities to teach and preach are so limited? This is a matter that I've given considerable thought and prayer to. My conclusion is that I should seriously contemplate the priorities of the apostles. (The apostles were missionaries! The word "apostle" is derived from the Greek language and the word "missionary" is from Latin – but they have the same meaning – "messenger"!) Acts 6 verses 1-4 give us great insight into the priorities of the apostles. Please read carefully and prayerfully. "Now in those days, when the number of the disciples was multiplying, there arose a complaint against the Hebrews by the Hellenists, because their widows were neglected in the daily distribution. Then the twelve summoned the multitude of the disciples and said, 'It is not desirable that we should leave the word of God and serve tables. Therefore, brethren, seek out from among you seven men of good reputation, full of the Holy Spirit and wisdom, whom we may appoint over this business; but we will give ourselves continually to prayer and to the ministry of the word.'" (NKJV)
Obviously, the apostles of Christ had two priorities – "prayer" and "the ministry of the Word." Since I'm no longer a bi-vocational missionary (we sold our business four and a half years ago) and since my opportunity to teach and preach the Word are limited, I now have more time to devote to prayer. We have a prayer team for our Overseas Outreach mission, and I re-read and pray over our prayer letters almost every day. We get about eight to twelve pages of prayer requests per week from the four campus locations of Eagle Christian Church, where we are members of the prayer team. I also pray over mission reports and magazines like Voice of the Martyrs. Walking with the King of the universe is interesting and exciting! (P.S. Some of my time is writing down ideas for our prayer letter! 😊 And some for reading many books I've gathered in over 50 years.)
Besides my renewed focus on the power of prayer as my primary ministry, I'm also reaching out locally to share the gospel of Christ plus very much involved in encouraging believers and reaching unbelievers both nationally and internationally. We have donated many cases of our books to help other vital ministries, such as Boise Rescue Mission, ARM Prison Outreach, Spirit of Martyrdom, and Love Packages (which sends books to missions worldwide).
Question!
How has God gifted you? What do you love to do? How is He calling you to use that gift – or gifts – to His glory? In the Word of God I have found four lists of spiritual gifts – and I noticed that they are not duplicates! Since each list of gifts is different from the others, isn't it a logical conclusion that these lists are not intended to be all-inclusive? Also, James tells us: "Every good gift and every perfect gift is from above, and comes down from the Father of lights, with whom there is no variation or shadow of turning." James 1:17 (NKJV) Therefore, whether He has gifted you with an ability for woodworking, carpentry, plumbing, mechanic repairs, baking, cooking, art, music, etc. – are you asking Him; "Lord, what would You have me do?" "How can I serve You?"
If God has already gifted you with some craftmanship ability before your conversion, is it not a valid possibility that the Holy Spirit will shine through your use of that gift to turn it into a spiritual gift?

Challenging Another Mantra
Have you heard the recent mantra of Evangelicalism: "Christianity is not a religion – it is a relationship!"? If that is true – then is there no such contrast between true religion and false religion? So, what about James 1:27? "Pure and undefiled religion before God and the Father is this: to visit orphans and widows in their trouble, and to keep oneself unspotted from the world." (NKJV) Who are we going to believe – James, who was inspired by the Holy Spirit – or the manufacturers of the mantra? Would it not be far more accurate and realistic to say that Christianity is a religion of relationships? Relationship with God the Father through Christ the Son by the agency of the Holy Spirit. Relationships in the Body of Christ with our brothers and sisters in Christ! Relationships in our families and our friendships to the glory of God! Pure relationships between sweethearts prior to marriage and faithful commitments to our vows after the wedding! Praise His Holy Name!
Winston Churchill and Clementine
I have heard that Winston Churchill was once asked if he died young and could come back to life as anyone in the world – who would he want to be? He smiled and said, "Clementine's second husband!" Winston Churchill was sometimes blunt and rash in his manner and reckless with his drinking and smoking – but was a political genius and a wise, dedicated husband! He certainly loved Clementine to honor her with such an off-the-cuff compliment!
Now, concerning your relationship with Jesus – are you honoring Him with your words? How is your relationship with family, friends, neighbors, enemies?
Pertinent Points
"Don't think you can claim the promises if you are not obeying the commands!" ~ Adrian Rogers. Jesus said: "'Whoever has my commandments and keeps them, he it is who loves me. And he who loves me will be loved by my Father, and I will love him and manifest myself to him.' Judas (not Iscariot) said to him, 'Lord, how is it that you will manifest yourself to us, and not to the world?' Jesus answered him, 'If anyone loves me, he will keep my word, and my Father will love him, and we will come to him and make our home with him. Whoever does not love me does not keep my words. And the word that you hear is not mine but the Father's who sent me.'" John 14: 21-24 (ESV) The beginning of true discipleship in Christ is a teachable spirit. "If anyone's will is to do God's will, he will know whether the teaching is from God or whether I am speaking on my own authority." John 7:17 (ESV)
From Our Mailbox
"Molodchiy Ministry Update – Austria 2022
Our dear friends, prayer warriors and supporters, this is our first update since we left Kharkiv in March after the horrible invasion and war. In this update we would like to briefly describe our experience during this time which will help us to praise God and focus on our journey of Faith as we are together again in Vienna, Austria.
The road from Kharkiv through the Western Ukraine to Austria. It is difficult to describe all our feelings and experience in this update as we were leaving our home city and began our journey not knowing where we were going. But God is our mighty Lord, who took care of us and guided us. All of you stayed in touch with us via different means of media and prayed for us and supported us financially for which we are unmeasurably thankful. At first, we were thinking that the war would be over soon and did not lose hope to return but the time proved that this war became deeper every day. By Lord's guidance we happened to be in Western Ukraine and with time decided for Natasha and Jacob to go to Austria to join our older kids who were evacuated earlier from Kharkiv. We are deeply thankful to TCMII staff, students and professors who helped us during this time. Zhenya's parents were also evacuated to Western Ukraine as situation in Kharkiv became worse. Zhenya started taking care for his parents and serving in the local church in Kosiv town as pastor's aid and a preacher every Sunday for over half of the year. It was a very fruitful and blessed time for the ministry in Western Ukraine, preaching, teaching, helping the church with different projects. I (Zhenya) especially value my time alone with God in the mountains learning to hear His voice better. I appreciated your prayers when you were staying together shoulder to shoulder in prayer. As I have said it is hard to describe this experience in one update. We are still deeply troubled by what is going on in Ukraine and our sorrow for our country does not end. We pray for peace and are looking for the ways God wants us to follow Him here in Austria… We are thankful knowing you and that you gave us your helping hand during this time. Please, continue to lift us in prayers while we are getting used to a new life here searching for God's will to be fulfilled in us and through us here in Vienna.
Zhenya, Natasha, Mary, Yan, Jacob, our parents, Boris and Lidia"
Dear Zhenya, Natasha & Family,
Thank you for the Update – which reminds me of the hardships and heartaches you have endured for the past nine or ten months – and my heart aches for you and the millions of hurting people in Ukraine and far beyond. However, our joy is that you are safe, back together as a family, and still committed to the ministry of Christ (perhaps even more than before, as a result of your long walks and talks with our Lord in western Ukraine). I'm hoping and planning to share a portion of your update in our January prayer letter, our Lord willing! (Who knows – Jesus may come back and take us Home before then!) Frohe Weinachten! Razhest vom! Snovum Godum!
In the love and grace of Jesus, Rick
* * * * * * * * * * * * * * * * * * * *
"Beloved brothers and sisters,
Thank you so much for all your fraternal care, your sacrificial help, and your unceasing prayers! We experience its power all the time! With great joy, I present you the Christian Center for Science and Apologetics 2022 November newsletter. To everything, there is  a season and a time to every purpose under the heaven: a time to cast away stones, and a time to gather stones together; a time to share resources and time to develop resources; a time to talk face-to-face, and a time to chat online whenever possible.
Our country has experienced the most massive cruise missile attack on the civil infrastructure in world history. Over and over again Russia fires about a hundred warheads at a time. Their main targets are key power supply hubs. Most of the electrical network in Ukraine, the largest European country, has been destroyed. Many places have power only a few hours a day now if any. As a result, again, after a short encouraging 'window' of the events in a hybrid format (some participants were present physically; the rest followed and asked questions online or watched the video after getting power and Internet), we are working online primarily. A good propane reserve generator enables us to continue spreading the message of hope, comfort and eternal life, as well as to provide targeted humanitarian help regardless of the blackouts. We are so thankful to the Lord for this blessing!
The last live event so far was a strategically important project on providing resources to the Christian Schoolteachers Association national conference. While the army is fighting for the country's present existence, the schoolteachers are fighting for its future! Regretfully only 90 persons managed to come out of 200 registered in the given circumstances. Nevertheless, the exciting message was spread there: practically all our resources are available online, and many others can get them whenever needed. May the Lord be praised!
As you know, the first session of the 'Reliable Foundations' open apologetics club was the 'Good Creator of Evil World.' It dealt with the most painful questions people face now – about war, pain, suffering, injustice, violence … It was an extremely encouraging start! Nevertheless, the power shortage and air raid alerts forced us to suspend the next session, 'Does God Exist?' Meanwhile, we are looking for a proper reserve power source with batteries that would allow completing the video records of the events when the power is off, wherever we would do the event, even as a basement used as a bomb shelter. Please join our prayers for getting it!
By the prayers of many, our Apologetics Center building was not damaged in any way, even when the hunt for Russian suicide strike drones was going on in the sky right above us. That was quite a firework, believe me! The winter colds are at the door already. But your sacrificial care allowed us to complete all the essential outdoor renovations of the facilities before the first frosts came. Fixing the supporting pillars leak was especially important! The rest of the outdoor work can wait till the spring now. We are so thankful!
We also experience God's grace and the power of your prayers in many other ways. For instance, I went to a doctor recently to check on a minor issue, which in the end was nothing to worry about. However, another problem was discovered during that unplanned ultrasonic scan. A surgery I had six years ago happened to be unsuccessful. My kidney had no chance to work properly since then and was about to blast. The problem was found right in time! By God's providence, kidney removal surgery became a relief instead of a disaster! God is good!
Please continue to pray for peace in Ukraine, for the protection of our fellow workers wherever they are, and for the Lord's guidance to us in this time of uncertainty. Please continue to pray for our teammates who defend our land. They are at the hottest spot in the Northeast of the country. May the Lord protect them!
Please pray for Ukraine, for the Lord's intervention in the midst of troubles, for many people in other countries who care and help, for the lives of soldiers and civilians, and the peace in our country! Most of all, please pray for the Lord's guidance for us in these difficult times.
Yours by the grace of Jesus, Sergei"
* * * * * * * * * * * * * * * * * * * *
"Petro* and Nadiya* have lived with the terrors of war since 2014, when Russian-backed troops invaded the area near their home in the Donetsk region of Ukraine. The events that followed so deeply traumatized their then 2-year-old son, Maksym*, that he stopped speaking. (*= names changed for protection)
The family fled to Mariupol. They purchased the only house they could afford and spent the next eight years renovating it. The family of four finally moved in this February, just days before the devastating Russian invasion began. For the three terrifying months that followed, they lived in the tiny five-by-seven foot cellar, cooking over an open fire during breaks between shelling. 'One day was like a year,' Petro shared. 'You want to sleep all the time because you are so tired. Bombs are exploding all the time. You hear windows rattling, and the lid of the cellar too.'
When Mariupol fell, the family fled to Lviv. The generosity of friends like you helped place Bibles in Petro and Nadiya's hands soon after they arrived. Though they were not believers at the time, they soon realized that God had been protecting them on their journey to safety. Both came to faith in Christ after they began reading the Bibles they received. Nadiya says, 'What touched me most is the story of Abraham. There were so many situations where God intervened and helped him. God didn't abandon His people.' She adds, 'As you read the Bible, the wound in your soul becomes smaller.' They both agree, 'The most important thing is not the fact that you lost your house, your material belongings – everything – the most important thing is that we found God.' Your commitment to sharing God's Word is changing lives for eternity. The Bibles you help provide are making the faithfulness of our God known to those in urgent need. Thank you!"
American Bible Society, December 2022 Vol. 31, No. 12
* * * * * * * * * * * * * * * * * * * *
Prayer for the Persecuted Church – Samaritan Ministries, December Report
Ukrainian pastor, wife released by Russians – Praise God that a pastor and his wife who had disappeared in a Russian-occupied area of Ukraine have been released, Voice of the Martyrs-Canada reports. Leonid and Tatyana Ponomarev of Mariupol disappeared in September. Their congregation, Kurchatove Church, was then closed and turned into a cultural sports and entertainment complex. The Ponomarevs were released on October 21.
Belarusian church services dispersed, pastors fined – Members of New Life Church in Minsk, Belarus, who have been meeting outdoors have been forced to halt services, MNN says. Services were moved outdoors when their building was sealed by government authorities in 2021. Two pastors were fined the equivalent of two months' average wages. Pray for the ability of New Life Church to meet without interference, especially as temperatures drop this winter.
More Prayer Requests
1. Our only hope for the restoration of the America our founding fathers bequeathed to us is massive spiritual awakening and national repentance. Please pray earnestly for that enlightenment and the casting down of Satanic strongholds.
2. Please re-read From Our Mailbox and pray for every request. Ukraine is a disaster area!
3. Huge praise to God for those of you who support Overseas Outreach with your prayers and financial support! Because of your prayers and amazing generosity, we have been able to supply some very large donations to ministry partners for humanitarian aid to destitute families in Ukraine (as well as helping some of the refugees). This is compassion evangelism functioning as Christ intended! Thank you so very much! God sees all and knows who you are! We thank Him for you! Please keep praying for massive spiritual awakening throughout Ukraine, Russia, and all the former Soviet Union nations!