Jesus Is The Way! The Truth! The Life!
Have you ever lost your way – and wondered if you would ever find your way home? Jesus is The Way! Not only so, He is our compassionate Leader! He will not only show you the way home, He will lead you Home!
Have you ever wondered how Pilate could stand right in front of Him Who is The Truth – and be so blinded by his own situation, circumstances, and philosophy that he asked the question, "What is truth?" – then turned and walked away? In our corrupted culture where we are constantly bombarded with lies from fake news, false prophets, and foolish philosophies – do we sometimes feel so frustrated that we also want to throw our hands up and ask the same question: "What is truth?" If so, don't walk away from Jesus! Instead, turn and look at Jesus. Look full in His wonderful face. He is The Truth! Salvation is in "looking unto Jesus, the Author and Completer of our Faith!" "However, when He, the Spirit of truth, has come, He will guide you into all truth; for He will not speak on His own authority, but whatever He hears He will speak; and He will tell you things to come." John 16:13 (NKJV)
Have you ever been so disappointed, downhearted, and discouraged that you felt no joy in living and were tempted to give up and just "throw in the towel"? Wait! Don't do that! Can you remember seeing foals, lambs, calves, or kids frolicking in a pasture with the exuberance of life? Or hearing the laughter of children playing a game? Turn your gaze and attention to Him Who is The Life! He will lift you up and infuse you with the joy of life in Him! Jesus said: "The thief comes only to steal and kill and destroy. I came that they may have life and have it abundantly." John 10:10 (ESV) If we give up our relationship with Jesus for disappointment, discouragement, despair in the folly of frazzled feelings, or if we forsake Him, the Lover of our souls, for any worldly pleasure, person, or philosophy – we are cheating ourselves out of the forgiveness, joy, peace, purpose, and power that only He can supply. How foolish!
"As the deer pants for the water brooks, so pants my soul for You, O God. My soul thirsts for God, for the living God. When shall I come and appear before God?… Why are you cast down, O my soul? And why are you disquieted within me? Hope in God, for I shall yet praise Him for the help of His countenance." Psalm 42:1-2, 5 (NKJV)
What Did Jesus Call Us To?
Almighty God never loses control. He never says, "oops"! The kingdoms of this world will become the kingdoms of our Lord and Savior Jesus Christ! Jesus did not call us to make decisions – He called us to make disciples!
Examining the Pro-Death Mentality
In our October prayer letter, I asked: "Are you recognizing the pro-death mentality that is so prevalent in modern society? Why are so many 'elites' promoting, pushing, even demanding abortion 'rights,' suicide, euthanasia, etc.?" In December we are often reminded of the pro-death mentality because of King Herod's order for all babies two years old and under in Bethlehem to be brutally murdered. Why? Because in his lust for unbridled power and control, he considered King Jesus to be a threat! In his obsession for power and control he also killed his own wives and sons. The pro-death mentality is satanic, for Jesus said: "The thief does not come except to steal, and to kill, and to destroy. I am come that they may have life, and that they may have it more abundantly." John 10:10 (NKJV)
Has it occurred to you that what is rewarded financially is what is actually being promoted? This Marxist administration rewards hospitals for every death by covid they report, but if the patient recovers – no reward! Hmm! Does this make you wonder what is going on here? Could it be that the elite controllers of culture worldwide believe the mantra that the world is grossly over-populated, and that billions of "useless eaters need to be eliminated"? That "God is dead"- and they are in control? That they are responsible to "save the planet" – by thinning out over-population? That they are the captains of our souls and the masters of our fate?
Could these be the actual motivations for promoting the lies and frauds of evolutionism as science; for promoting abortion? Euthanasia? Suicide? Mandates for vaccines that have dangerous side effects and unknown long-term results? Think about this! Let's pray for truth and righteousness to prevail! What does the Word of God have to say about this?
In the dominion mandate that God gave to Adam and Eve we find this pertinent truth: "Then God said, 'Let us make man in our image, after our likeness. And let them have dominion over the fish of the sea and over the birds of the heavens and over the livestock and over all the earth and over every creeping thing that creeps on the earth.' So God created man in his own image, in the image of God he created him; male and female he created them. And God blessed them. And God said to them, 'Be fruitful and multiply and fill the earth and subdue it, and have dominion over the fish of the sea and over the birds of the heavens and over every living thing that moves on the earth.'" Genesis 1:26-28 (ESV) Has this mandate ever been revoked? Anti-God, anti-Christ philosophers have tried to revoke it with promoting homosexuality, transgender confusion, destruction of the family, abortion, suicide, war, euthanasia, etc. But who else but God Himself can revoke it? Is God pro-life? "I call heaven and earth to witness against you today, that I have set before you life and death, blessing and curse. Therefore choose life, that you and your offspring may live, loving the Lord your God, obeying his voice and holding fast to him, for he is your life and length of days, that you may dwell in the land that the Lord swore to your fathers, to Abraham, to Isaac, and to Jacob, to give them." Deuteronomy 30:19-20 (ESV); "Thomas said to him, 'Lord, we do not know where you are going. How can we know the way?' Jesus said to him, 'I am the way, and the truth, and the life. No one comes to the Father except through me.'" John 14:5-6 (ESV) Promoting death is Satanic. "The thief does not come except to steal, and to kill, and to destroy. I (Jesus) have come that they may have life, and that they may have it more abundantly." John 10:10 (NKJV)
Has it occurred to you that in spite of many overpopulated cities, there are still vast regions of earth that are almost entirely uninhabited? We don't need to try planting colonies on the moon! Has it occurred to you that this earth still has vast supplies of untapped resources? That when God decides to pull the curtain on this earthly drama, everyone and everything He has not redeemed will be incinerated? "Beloved, I now write to you this second epistle (in both of which I stir up your pure minds by way of reminder), that you may be mindful of the words which were spoken before by the holy prophets, and of the commandment of us, the apostles of the Lord and Savior, knowing this first: that scoffers will come in the last days, walking according to their own lusts, and saying, 'Where is the promise of His coming? For since the fathers fell asleep, all things continue as they were from the beginning of creation.' For this they willfully forget: that by the word of God the heavens were of old, and the earth standing out of water and in the water, by which the world that then existed perished, being flooded with water. But the heavens and the earth which are now preserved by the same word, are reserved for fire until the day of judgment and perdition of ungodly men. But, beloved, do not forget this one thing, that with the Lord one day is as a thousand years, and a thousand years as one day. The Lord is not slack concerning His promise, as some count slackness, but is longsuffering toward us, not willing that any should perish but that all should come to repentance. But the day of the Lord will come as a thief in the night, in which the heavens will pass away with a great noise, and the elements will melt with fervent heat; both the earth and the works that are in it will be burned up. Therefore, since all these things will be dissolved, what manner of persons ought you to be in holy conduct and godliness, looking for and hastening the coming of the day of God, because of which the heavens will be dissolved, being on fire, and the elements will melt with fervent heat? Nevertheless we, according to His promise, look for new heavens and a new earth in which righteousness dwells. Therefore, beloved, looking forward to these things, be diligent to be found by Him in peace, without spot and blameless;" 2 Peter 3:1-14 (NKJV) Let's remember – and never forget: God is still on His throne, and He has a plan that cannot be thwarted!
What is Junk?
Recently I heard the definition of the word "junk." What is junk? "Something you throw away about three weeks before you need it!" 😊 However, even though smiles are good, and this definition may bring a smile to your lips – it is much more important to always remember that "God don't make no junk!" 😊
Think about that statement! It may not be great grammar, but it certainly is great truth! Psalm 139 clearly teaches us that God Himself is the creative genius Who knits together the fabric of every child in his or her mother's womb. Therefore, no matter how a child was conceived, whether in the loving union of husband and wife in accord with God's command to be fruitful and multiply, or from sinful immorality, there is no such thing as an illegitimate child! Illegitimate actions – yes! Illegitimate children – no! Remember – and never forget – God don't make no junk! No matter how sinful your parents may have been, you are God's special creation. He loves you and created you for His purpose!
America's sinful cancel culture didn't start in these past couple years. The corrupted cancel culture of the so-called Supreme Court of USA on January 22, 1973, tried to legitimize the canceling of the right to life while salving the conscience of the participants. Now the lives of over 62 million unborn citizens have been cancelled by corruption in America. What are we doing about it? One day every one of us will stand before the true Supreme Court! "The soul who sins shall die. The son shall not bear the guilt of the father, nor the father bear the guilt of the son. The righteousness of the righteous shall be upon himself, and the wickedness of the wicked shall be upon himself." Ezekiel 18:20 (NKJV)
Wholesome Words of our Lord Jesus Christ
"If anyone teaches otherwise and does not consent to wholesome words, even the words of our Lord Jesus Christ, and to the doctrine which accords with godliness, he is proud, knowing nothing, but is obsessed with disputes and arguments over words, from which come envy, strife, reviling, evil suspicions, useless wranglings of men of corrupt minds and destitute of the truth, who suppose that godliness is a means of gain. From such withdraw yourself. Now godliness with contentment is great gain. For we brought nothing into this world, and it is certain we can carry nothing out. And having food and clothing, with these we shall be content. But those who desire to be rich fall into temptation and a snare, and into many foolish and harmful lusts which drown men in destruction and perdition. For the love of money is a root of all kinds of evil, for which some have strayed from the faith in their greediness, and pierced themselves through with many sorrows. But you, O man of God, flee these things and pursue righteousness, godliness, faith, love, patience, gentleness. Fight the good fight of faith, lay hold on eternal life, to which you were also called and have confessed the good confession in the presence of many witnesses. I urge you in the sight of God who gives life to all things, and before Christ Jesus who witnessed the good confession before Pontius Pilate, that you keep this commandment without spot, blameless until our Lord Jesus Christ's appearing, which He will manifest in His own time, He who is the blessed and only Potentate, the King of kings and Lord of lords, who alone has immortality, dwelling in unapproachable light, whom no man has seen or can see, to whom be honor and everlasting power. Amen." 1 Timothy 6:3-16 (NKJV)
"And We Know that God Causes All Things to Work together for Good to those Who are the Called According to His Purpose"
Has it occurred to you, my Christian brother, that whether we are enjoying fun and frolic or facing fearful futures, fiery furnaces, flooding freeways, or fictitious fallacies from fake friends – God Almighty is still on His throne and is bringing all of these distressing discords together into beautiful harmony as a symphony of praise? He is working all of it together for our good and His glorious crescendo! Praise His Holy Name! "And we know that all things work together for good to those who love God, to those who are the called according to His purpose. For whom He foreknew, He also predestined to be conformed to the image of His Son, that He might be the firstborn among many brethren." Romans 8:28-29 (NKJV)
A Good Marriage
A good marriage is a contest of generosity between two contestants who love each other with God's description of love. "Love is patient and kind; love does not envy or boast; it is not arrogant or rude. It does not insist on its own way; it is not irritable or resentful; it does not rejoice at wrongdoing, but rejoices with the truth. Love bears all things, believes all things, hopes all things, endures all things… So now faith, hope, and love abide, these three; but the greatest of these is love." 1 Corinthians 13:4-7, 13 (ESV) Are we remembering that Valentine's Day is a celebration of Biblical, godly romance and marriage?
The Wit and Wisdom of Honest Abe
"I am much indebted to the good Christian people of the country for their constant prayers and consolations…" ~ Abraham Lincoln, September 4, 1864 (Letter to Eliza Gurney)
"Be sure to put your feet in the right place, then stand firm." ~ Abraham Lincoln
James Dobson's Letter
If you don't receive James Dobson's monthly letters, you are missing lots of good insights about our American situation. His January pro-life letter is powerful! And he gives permission to copy and share it in full. So, if you want a copy, let us know and we will send you a copy of ours.
Who Was Karl Marx?
The book that I had mentioned previously by this title is potent and pertinent. After reading it and loaning out my copy twice, I've ordered two extra copies to be sent to friends. So, if you are wondering what is going on in this world gone crazy, I strongly recommend that you find and buy a copy. We had to go through Amazon, but you may find another source. However, if you begin to panic over the threat of Marxism, Evolutionism, Terrorism, Materialism – or any other "ism," I recommend that you go back to "And we know that all things work together for good to those who love God, to those who are the called according to His purpose.", and go back to your knees to cast all of your fear on the One Who inspired John to write "perfect love casts out all fear" and Paul to write: "For God has not given us a spirit of fear, but of power and of love and of a sound mind." 2 Timothy 1:7 (NKJV)
From Our Mailbox
"Dear Rick and Della,
… Situation in Ukraine is very tense, although people are not panicking, but today local authorities in Kiev announced the plan of evacuation to the shelters in case of bombing. It sounds as if we are on the edge of war. US and other countries, mostly US are delivering weapons every day. So we do not know if it scares Putin or provokes him.
Praying, Zhenya and family"
+ + + + + + +
"Dear Rick and Della,
… As for the Russian threat, a lot of things are being told and spoken through the media. It is very difficult to discern what is the truth, but we pray for discernment and God's presence. Many churches here in Ukraine started to emphasize prayer more and actually pray more. I am really happy for Ukraine that it overthrew Lenin monuments and the old system of totalitarianism. However, we live during hard times but still hope that Ukraine can and will spread Christian faith to Europe. We do not know what the future holds for us. It is really hard at times to live in the face of a threat like Russia, but we live it day by day, praying and seeking to fulfill his will!
God is good, stay healthy,
praying, Zhenya and Natasha"
* * * * * * * * * * * * * * * * * * * *
"Greetings guys, (Note: This is a copy of what Zhenya sent to our O.O. coalition team and passed on to us.)
It was good to have the correspondence with Sergey and we hope and pray for God's leading in our mutual work in future! I am glad Rick mentioned about balanced life. As I grow in my age, I understand that need even more. As I said during our meeting in summer, I need to develop prayer life more. Prayer life is like the instrument of balanced life. Let us also pray for Sergey and pray more about our families and ministries. Thank you all for being friends!
+ + + + + + +
"Greetings Rick and Della,
There is no problem sharing our insights. We need to pray, and we hope Russia will step back a little for a while. The answer of US and NATO gives some hope. But we do not know… Things are escalating around Ukraine – however there is no panicking, and everything is working as usually.
Blessings, Zhenya"
* * * * * * * * * * * * * * * * * * * *
"Dear Fellow O.O. Members… please read Sergey's email below about possible summer camp locations… your feed-back is important any thoughts about the OO Coalition Summer Camp, locations, itinerary… challenges. Please share what the Lord is placing on your heart about the camp… insights into what you see in regard to the potential war/challenges in Ukraine…. as things develop, please remember our large facility/Ministry Center in the central Ukraine region of Kirovograd Oblast. This multiple home center is open to you and if you should know of a Christian family displaced from the Eastern Region and need, please let me know. The Center is suited for multiple large families.
In His Grace… I'm praying for you. Stephen"
+ + + + + + +
Good morning, Stephen,
Della and I really appreciate your quality leadership for our O.O. coalition team and so does our good friend, Jim Scott. Also – thank you for thinking of and offering your transition home for displaced families. Your Love Cradle International is a compassion mission at its core – thank you for extending compassion to the likelihood of displaced families. 😊
* * * * * * * * * * * * * * * * * * * *
"Dear Rick and Della,
Thank you so much for the AMAZING, wonderful "meat"-filled letters and the articles and "life story" you wrote. (We read it aloud while traveling.) You are a blessing to so many! Blessings!
John & Fran"
* * * * * * * * * * * * * * * * * * * *
Note to our Overseas Outreach readers: Kim Rinker is a Christian lady who lives in our area. She has been to Ukraine and developed friendships there. On January 31, she sent us this message containing potent, pertinent information from Tanya in Ukraine. The conversation must have been a zoom call. Here is what we received –
News from Tanya…
I spoke with Tanya this morning, it was sooooo wonderful to see her. They have been so busy with the Christmas gift box distribution. This year the organization from Scotland who supply the boxes had an extra truck load that was supposed to go to Romania. It could not be delivered so Tanya said they would take it. Almost 10,000 gifts total! She said it was wonderful, they had to break up into smaller teams to distribute them all. So, in the midst of everything that's going on, so many are blessed.
We talked about what is going on in Ukraine. The Government has told everyone to not panic, continue everyday life, this is nothing new. It's not new, this war has been going on for seven years. BUT the government has also taken a "two-week COVID break". Tanya said during lock down in 2020 the Government continued meeting via ZOOM, now they are not meeting at all. They are taking this time to move with their families west out of Kiev. Also, all of the important Government documents have been moved west out of Kiev. They know it's just a matter of time. There have been drills with sirens and bomb shelters set up. Tanya just shook her head and said she doesn't know how they would be able to do it.
The church Andriy and Tanya go to is meeting this week to organize a way to get the Orphans, Refugees and Handicapped to a safe place in the west. Tanya and Andriy are going to a camp in the west to see if they can rent it. I believe Serve Now will be helping with this. Tanya was crying while she talked about the kids and refugees. She has such a huge heart for them, knowing what it was like to be a child refugee herself. I just wanted to reach through the screen and hug her! I said I wish I was there, she said, "NO, you don't"!
Tanya and Andriy are also needing a miracle for their oldest son who is 19. He has both Ukrainian and Crimean citizenship which means he is being called to serve in both Russian and Ukrainian mandatory military service for two years. I asked what he was going to do, if he could come to the States but he doesn't have a Visa. They are doing what they can to prepare but really taking it one day at a time.
She talked about the testimonies happening from all of this and the testimonies to come. I was reading the book of Joshua, we are so blessed to serve and know the same God who parted the Red Sea and took down the walls at Jericho! I'm praying and excited to hear the Miracles and Doors that open up for them. We can always pray! God Bless Ukraine and our friends there.
Tanya sends her Love. Love, Kim"
Prayer Requests
Please pray for the corrupted cancel culture of Roe vs. Wade to be cancelled and thrown in the trash bin of history along with legalized slavery.
Please pray for God to put a hedge of protection around the people of Ukraine and give the Christians the Presence to portray the peace that passes understanding and power to proclaim truth and love with boldness.
Please pray for massive spiritual awakening in Ukraine and Russia.
Please pray for Tanya and Andriy's 19-year-old son to put his complete trust in the power of our Potentate and keep his focus on our Commander-in-Chief. The "fourth Man in the fire" still walks with us through our fiery trials!
Over the past couple years Marilza, then Randy, then Sandy and David have had to endure the Covid virus – and God brought them through – for which we praise Him abundantly! (Also, that He has shielded us from it.)
Dear Overseas Outreach Donors & Prayer Partners,
Several months ago, we shared a need about Kherson Christian Church in Ukraine, which had a fire, causing much damage to their building. We want to thank those of you who prayed for them and an Overseas Outreach donor who sent a sizeable donation to help with the repair of that building. We were able also to include some extra funds to help with heaters for TCI Pastors.
A few days ago, we received an update from Valentin Siniy, President of Tavriski Christian Institute, the organization that was partnering with them in letting people know of their need. We want to share his update so you can also thank God for His intervention and rejoice with the congregation.
– UPDATE –
ON HOW YOUR GIFT MADE A DIFFERENCE TO KCC'S SANCTUARY REMODELING
"I want to thank you once again for helping KCC to rebuild its sanctuary damaged by fire last March and tell you the impact of your gift.
The restoration cost was unbearable for the congregation going through all the difficulties of economic decline caused by the war in Ukraine and the Covid pandemic's consequences. However, thanks to your help, the church was able to finish the remodeling of its sanctuary.
Over 100 church volunteers participated in the church remodeling. Damaged floors, decorations, and equipment were put on six big trucks and moved out to a dump. Several contractors worked on cleaning and painting the walls and ceiling, as the church building is the second largest auditorium in the city. There are some things that need to be completed on on-stage equipment, but the sanctuary is fully functional now, and the Church is meeting in the sanctuary since Christmas.
The remodeled sanctuary will serve hundreds of church members as well as thousands of people living in the neighborhood.  As the sanctuary is one of the biggest auditoriums, it is often used by public schools for graduation ceremonies and local orchestras for concerts.  Hundreds of children come to the church's community center.  Also, the church does a lot of evangelistic events for the poor, widows, orphans, and veterans.
The church's remodeling became a manifestation of God's mercy and glory to church members and people in the neighborhood, as they saw how quickly the sanctuary was restored. Moreover, several non-believer workers heard the Gospel and left their bad habits like alcohol and drugs. The church is working on building relationships with them, and hopefully, this will bring them to salvation.
Thank you very much!"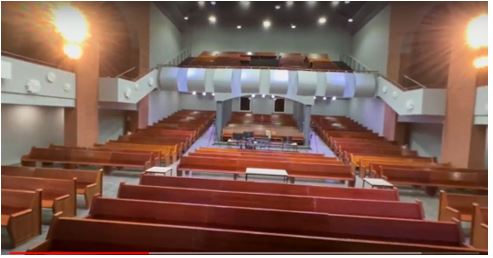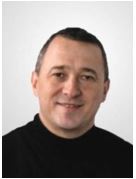 Valentin Siniy,
President of TCI