In Darkness of Grief or Despair – Remember the Sun Will Rise Tomorrow!
I recently heard this story on an Adrian Rogers replay broadcast: A young father with his very young daughter walked out weeping from the funeral home – as they left behind the little girl's mother. That evening at bedtime, the little girl looked at her father with pleading eyes and asked, "Daddy, can I come into your room to rest beside you?" He granted her wish, but when he turned out the light, she said, "Daddy! It's so dark! I can't see you! Is your face toward me?" He assured her that it was, and soon he could tell by the heavy breathing that she was asleep. This big, strong man slipped out of bed onto his knees, looked up and said, "Father, it's so dark! My life has never been so dark before! Is Your face turned toward me?" In the stillness of that dark night, he also heard the soft, reassuring whisper to his heart and soul from his Father: "Yes, son! I'm here – and My face is turned toward you!"
"Weeping may endure for a night – but joy comes in the morning!" In your "dark night of the soul" remember that your Father is the One Who brings the sunrise. "But to you who fear My name the Sun of Righteousness shall arise with healing in His wings; . . . Malachi 4:2a (NKJV); "Blessed be the God and Father of our Lord Jesus Christ, the Father of mercies and God of all comfort, who comforts us in all our tribulation, that we may be able to comfort those who are in any trouble, with the comfort with which we ourselves are comforted by God." 2 Corinthians 1:3-4 (NKJV)
Do You Fear God – Or Are You Afraid of God?
"Hatred of country comes from the exact same place that hatred of masculinity comes from – a hatred of God and specifically, a hatred of God as Father." ~ Michael Voris
Being afraid of God can easily turn into hatred for God, but the fear of God is the beginning of both knowledge and wisdom. (See Proverbs 1:7 and 9:10.) The true fear of God that does bring both knowledge (science) and wisdom (the practical good sense to use knowledge properly) encompasses both a healthy respect for the wisdom and power of God and an awesome reverence for His creativity, majesty, glory, and love.
When we think of God as our spiritual Father, there are two important truths we need to remember:
Almighty God is the Father of all human beings because He is Creator and Judge of all the earth, but spiritually He is Father only of true believers who put their trust in our Lord Jesus as Savior. Jesus said to unbelieving Jewish leaders: "You are of your father – the devil." John 8:44
If your earthly father was negligent, mean, or abusive, so that you are afraid to commit your life to our Heavenly Father, remember, "God is love!" (1 John 4:8). He is Love beyond your fondest dreams!
"The Benefits of Cursing"???
Our corrupted culture has not only degenerated to the degree of promoting pornography and ignoring, as well as promoting, child sacrifices (abortion), but also to the place where some "doctors" are promoting the "benefits of cursing." What does God in His Word have to say about that?
The one who conceals hatred has lying lips, and whoever utters slander is a fool. When words are many, transgression is not lacking, but whoever restrains his lips is prudent. The tongue of the righteous is choice silver; the heart of the wicked is of little worth. The lips of the righteous feed many, but fools die for lack of sense. Proverbs 10:18-21 (ESV)
Be not rash with your mouth, nor let your heart be hasty to utter a word before God, for God is in heaven and you are on earth. Therefore let your words be few. Ecclesiastes 5:2 (ESV)
And the tongue is a fire, a world of unrighteousness. The tongue is set among our members, staining the whole body, setting on fire the entire course of life, and set on fire by hell. James 3:6 (ESV)
Be angry and do not sin; do not let the sun go down on your anger, and give no opportunity to the devil. . . Let no corrupting talk come out of your mouths, but only such as is good for building up, as fits the occasion, that it may give grace to those who hear. And do not grieve the Holy Spirit of God, by whom you were sealed for the day of redemption. Let all bitterness and wrath and anger and clamor and slander be put away from you, along with all malice. Be kind to one another, tenderhearted, forgiving one another, as God in Christ forgave you. Ephesians 4:26-27, 29-32 (ESV)
I tell you, on the day of judgment people will give account for every careless word they speak, for by your words you will be justified, and by your words you will be condemned." Matthew 12:36-37 (ESV)
Florence Littauer told a truly touching story about a time when she was teaching from Ephesians 4 about the importance of kindness and encouraging words. A little girl stood up, turned toward the group and said, "What she is trying to tell us is that our words to others should be gifts – like little silver boxes with a bow on top!" 😊
"Confess Your Sins to Each Other"
By Gene Shelburne
"Confess your sins to each other." (James 5:16)
". . . When our Catholic friends tell us they have confessed their sins, most of us have a mental image of the confessional booth where they spoke in confidence to a priest concealed behind a veil. If we've been viewing Blue Bloods or reading Les Misérables, scenes like this pop into our heads.
"During my childhood, and during the first decades of my ministry, in the churches I attended we never ended a sermon without "offering an invitation." Almost every Lord's day in the congregation of my teen years, our persuasive preacher, Herbert Gipson, filled the front pews with members who came forward to "confess their sins." While that ritual surely imparted some blessings to those who unburdened their souls, on far too many Sundays the rest of us were subjected to the ramblings of some emotionally unstable soul. Surely this was not what James had in mind when he told us to confess our sins, so I felt blessed when I started preaching in surrounding rural churches where any rare Sunday morning front-pew confession focused only on some genuine moral failure.
"I suspect, though, that what we did then (and what many Restoration Movement congregations still do) with those public invitation-song treks down the church aisle to obey James' instruction bears little or no resemblance to what James had in mind for us to do. Although James didn't make this undeniably clear, when I read his words about confessing sins, I hear him calling us not to public but to private confession and prayer.
"Do you remember the excitement generated by Promise Keepers? One of the best blessings they introduced to the broader Christian community was their encouragement for all of us who wear the name of Jesus to find one or two trusted friends we can bare our souls to – friends who can pray for us when we tell them in confidence what discourages us or shames us or tempts us as we try to stay upright for the Lord. "Woe to him who is alone when he falls and has not another to lift him up," the ancient wise man observed. He was right. Promise Keepers is long gone now, but our need for a close, supportive friend we can trust – someone we can confess our sins to – has not vanished. . .
"I'm trying hard to put a lid on my anger," a lifelong friend confided to me just a few days ago. As we drove to lunch in his aging vehicle, we got stuck at a left-turn traffic signal because the distracted gal in front of us was texting instead of driving. "Road rage" may be a bit too extreme to describe my friend's resulting temper fit, but his blood pressure obviously spiked. "I've got to learn to control my reaction to aggravations like that," this longtime Christian man told me. Not right then, but later, I asked the Lord to help him do that. He confessed his sins. I prayed for him. Just as James told us to.
"My heart aches when I think of several friends whose ministries crashed and burned because of sins they might have avoided if they had cultivated the kind of trusted friendships I am describing here. The brilliant guy who got sucked into the cesspool of pornography might have stayed clean if he had been able to solicit the prayerful aid of a friend right when those filthy temptations first surfaced in his life. My colleague who "borrowed" church funds to finance his gambling addiction might have avoided that shame had he confessed instead of hiding those sins. These men (and dozens like them) might have been saved from their sins if they had handled them the way James tells us to.
"Who can you safely talk to about self-control issues you usually hide from others? Does someone in your Bible study group or your coffee klatch feel comfortable sharing their fears or faults with you? This kind of informal but precious and supportive friendship may be what James had in mind when he advised us to "confess your sins to each other."
(Gene Shelburne is Senior Editor of The Christian Appeal. His column "Cross Currents" appears regularly in The Amarillo Globe News and other Texas newspapers. www.christianappeal.com. Shelburne recently retired after 50 years of ministry with the Anna St. Church of Christ in Amarillo.) One Body Magazine, Winter 2021, Vol. 38 l No. 1. Used by permission. (If you would like a sample copy of "One Body", with such stimulating articles, let us know.)
Out of Control?
Do you sometimes feel frustrated with the chaos? Overwhelmed? Confused with the feeling that everything is spinning out of control? That our constitutional republic is doomed because, as James Madison astutely observed – our constitution is designed "for a moral and religious people – it is not suitable for any other!"? That our crazy pandemic, wild pornographic, gender-confused, drug-infested, crime-riddled world is definitely spinning out of control? I cannot deny that you have abundant evidence for such feelings, but WHOA! HOLD ON! Are you open to consider that Satan may be out to trip you up and lead you into one of his many traps by manipulating your feelings? He and his demons work diligently to get us downhearted and discouraged – where he can trick us into blatant disobedience and sinful behavior. Are you open to seriously consider and apply another perspective (instead of just brushing it aside)?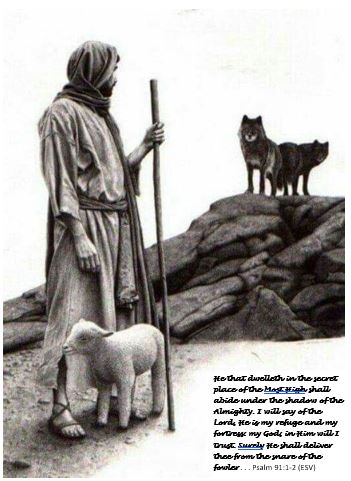 Be Still and Know That He is God!
The government of the entire cosmos is an absolute monarchy! Jesus our Lord is King! He is President! He is Legislator and Speaker of the House! He is the Supreme Court! Hallelujah!
The Lord Is My Shepherd
The Lord is my shepherd; I shall not want. He makes me lie down in green pastures. He leads me beside still waters. He restores my soul. He leads me in paths of righteousnessfor his name's sake. Even though I walk through the valley of the shadow of death, I will fear no evil, for you are with me; your rod and your staff, they comfort me. Psalm 23:1-4 (ESV)
From Our Mailbox
"Dear Rick, thank you so much for the new Prayer Letter you sent us. It's always encouraging to read it. We have an emergency and need help. A few days ago, there was a fire in one of Kharkov nursing homes. 15 people died and 9 were injured, because of that, the authorities started an urgent check up of all the nursing homes, hotels and rehab centers.
The church, Living Hope (you have been there), which was giving us the building for the rehab for 3 years, did not want to have problems and asked us to move out. Praise the Lord, another rehab center agreed to accept our 8 guys for a short time. So now we are planning to rent a three-bedroom apartment to place them and to continue their rehabilitation, but we are short of money for that and looking for a supporter. We need 250$ just for renting. All other expenses we can cover ourselves.
You know our hearts, and how much we want to serve the Lord in this ministry. We are praying that the Lord would open the hearts of people who can help. If you know someone who would like to help, or an organization, which works with such projects, please share this information. We promise to provide a report for the money. May the Lord be glorified through this.
In Christ, Vova and Maryana Vakula"
* * * * * * * * * * * * * * * * * * * *
"Dear Richard & Della – I want to share some good news with you – the matching gift amount for Pastor Vitaly's house was met, thanks to your support. It will help Vitaly to build his house and be safe before the coming of winter. Also, your gift is making a big difference for the expansion of the Kingdom in Kherson region of Ukraine, through the ministry of Vitaly's family.
From the bottom of my heart – thank you! Valentin (on behalf of Vitaly & Nataly Marukhno)"
Note: Pastor Vitaly's house burned several months ago, and the "Thank You" belongs to you who support Overseas Outreach with your prayers and offerings. (Valentin is the director of Tavrisky Christian Institute, where I've taught many times.)
* * * * * * * * * * * * * * * * * * * *
"By God's grace we lived through another year, experienced unbelievable mercy and miracles, saw God's power and goodness in difficult times! The Lord showed us His grace and love in Christ. May you continue to be strengthened with His power, grow in faith, know the love of Christ our Lord and Savior and be filled up to all the fullness of God! Blessed Christmas to you and your loved ones! ~ Inga"
* * * * * * * * * * * * * * * * * * * *
Larisa Schalbetsky Has Left a Huge Hole in Many Hearts!
"Hello Rick and Della! I apologize that it has taken me so long to respond to your letter…. Four months have passed but we still cannot believe it…. We miss her terribly. Everything changed so drastically and quickly despite some good showings of improvement. The doctor said that it's a sheer miracle that she had lived for another 4 years. Patients with such diagnosis usually die in 7-9 months. She died literally on my hands. Praise God that I was there at that moment. Everything around, every little thing reminds of her…. She was the heart of our home. She was special, different from other people. We were not ready to let her go. She helped everything move. On the day when we said good-bye to her, she was surrounded by so many grown-up children – the fruit of her joy, pride, commitment and sacrifice. Our sole consolation is that now she is with God and she doesn't cry nor suffer any pain (the very last month was very difficult). She is in the Father's house and the day will come when we'll see her again. This year is the 40th anniversary since mom and dad married. We're thankful to mom that she brought us to the church where we came to know Jesus, joined different ministries, where we met our Christian spouses and have wonderful children. So many lives changed because of her decisions – the one made 30 years ago to commit herself to children and the one about coming to church. And now as I look at these grown-ups, at who they are now, I realize that she laboured not in vain. She accomplished what she wanted – changed their lives, gave them a family. Now we function almost in an auto-pilot mode (we simply do what we ought to do), we support each other, dad of course grieves the most, he cries a lot, they have been together day in and day out, but he is such an example, there is so much on his shoulder now…. Thank you for your support, prayers, funds, that you've been supporting us for so many years. We feel your support even now. So many good memories together…. Please pass our gratitude to each and every donor who donated to our needs and may God richly bless every one. What a joy that we know God, that we can come to Him and find our salvation, comfort and hope!!! Merry Christmas!!!
With love and respect, Lena Shalbetsky (translated by Inga Chystyakova)"
Note: Lena still uses her maiden name for emails.
* * * * * * * * * * * * * * * * * * * *
"Dear Rick & Della, I just received your letter about 'Leaving God's Fingerprints.' What you said about so many leaving God's Fingerprints on your hearts is true. But Rick and Della – think of you leaving God's Fingerprints on hearts around the world. All the people you mentioned – friends, donors, prayer partners, and all the people you've touched with your teaching, books and ministries – just being two of God's faithful followers. I'm thankful for you, and what you're doing each day. And I'm blessed to have you for friends. I enjoyed seeing Zhenya's letter and am thankful for what all he and Natasha are doing. I'm blessed to have them as friends also. . .
Della, I really enjoyed your 'Stress Relief' article in the October issue. They made me laugh – and lifted my heart. I sent them along to my daughter, Sue. She's a teacher, and believe me – this year is certainly bringing a lot of stress…
Take care dear friends. Love in Christ, Gwen (Eichel)"
Note: Gwen, we are so richly blessed to have you as our friend – and we are thankful to Zhenya for putting us in contact with you.
"Prayer is beyond any question the highest activity of the human soul.  Man is at his greatest and highest when, upon his knees, he comes face to face with God." – D. Martin Lloyd Jones
* * * * * * * * * * * * * * * * * * * *
"Dear Pastor Rick: May the Lord bless you so much as you have blessed us. Thank you for your generous hearts and being a part of what God is doing around the world (2 Corinthians 9:11-15). ~ Sandi & SOM Staff" (SOM = Spirit of Martyrdom)
* * * * * * * * * * * * * * * * * * * *
"God Bless you Rick, your letters are brilliant and biblical, right on target. We must stand against this evil that is destroying Idaho and America! Thank you, thank you" – Charles Crane
"Rick, of course you can quote me. Glad for your stand for godliness and for America. Bless you, dear friend and brother. – Dr. Charles Crane, minister of Christ Jesus"
* * * * * * * * * * * * * * * * * * * *
"Hi Rick. Your wonderful letter, poem, wishes for us, etc. are outstanding. Just have been under too much very real spiritual warfare stuff to get things answered. Your prayer requests are thorough and a great example of careful insight . . . Just pray I can successfully reach . . . instructions in 2 Chron 20 and not be trying to help God out. Discerning the difference is sometimes hard for Martha Marthas.
– Martha Kelfer"
* * * * * * * * * * * * * * * * * * * *
"Thank you, Rick and Della for your hearts, your legacy of service, and your generosity towards our team and ministry at year end 2020. Your gifts are timely and very, very appreciated.
Della, may comfort in your body and peace in your soul be yours as you continue on the journey to which you have been called. Rick, your commitment to love Della and be with her as this unfolds speaks volumes to me. May God increase your reach even as you have to reel in a bit the activity and mobility you have known for so long. May our nation, and ALL nations, see and respond to the holiness and goodness of God in the year now upon us like never before. Yes, use my email in any way you wish. I'd be honored and thank you for sending the VOM material as well. I found it encouraging and inspiring!
Blessings to you both now and always, Rob Browne (Chief Encourager, President/CEO YouthReach International)"
Wow! Praise God for An Amazing Answer to Prayer!
"We are eager to inform you that the Lord blessed us with a nice place for our rehab center. He is always good and faithful! Praise Him!
We were given a house in the village close to Kharkov, 20 km. (We had been looking for a facility in Kharkov, but we couldn't find anything appropriate.) It used to be a village chapel, were an American missionary tried to start a church. It has not been used for 6 years, since the missionary left the country, when the war on the East of Ukraine broke out. We feel so blessed and thankful to the Lord for His providence and perfect timing.
This house is big enough for our ministry, but there is a lot of work to be done. The heating system there is very weak, so we want to change it. Also, there is no bathroom in the house, though there is water, which makes it easier to install a shower, a sink and a toilet. The guys who are in the rehab program have already moved in and are ready to work to make the house livable. It was given to us for free, and that's why we can use the money you sent for installing the new heating system. This is a big property, and we plan to start gardening in spring and raise some chickens. We see many opportunities to develop the ministry there.
Yesterday at the service, one of the guys shared how God used this problem to work in the hearts of many people. They themselves became more grateful, united and open for God's work in their hearts.
We admire our great, Almighty God and heavenly Father! Praise Him!
Blessings,
Volodya and Maryana"
Prayer Requests
Our friend, Joe Taylor, had laser surgery for one of his eyes on Friday, Feb. 5 – and may need to keep his head down for several weeks for it to heal. Please pray for total recovery! Joe is an artist, field paleontologist, creation scientist, and founder/director of Mt. Blanco Fossil Museum in Crosbyton, TX. Loss of eyesight would be a tragedy for Joe – as well as for our other good friends, Stan & Bonnie Lutz, who moved to Crosbyton last September to help with the work of the museum and co-found a School of Paleontology for creation science students. Please earnestly pray for restored eyesight for Joe!
Praise: The need is met for now for the new place to meet for the rehab center which Vova & Maryana Vakula planted and operate! (However, the needs of their ministry will be ongoing.) Another praise is for the broken lives and souls our Lord is rescuing through this ministry! Vova (Volodya) is a prime example to the other men of the grace and power of our Lord Jesus to rescue from the bondage of addictions.
Does the U.S.A. need a way through all the confusion and chaos? Truth in news reports and court cases? Life instead of abortion, euthanasia, murders, and death threats? Jesus is the Way! The Truth! The Life! Let's continue to pray for a massive spiritual awakening for America! For Ukraine! For the world!
Praise: There is only One Sovereign Ruler – in this country; in this world; in the entire universe – and no one can dethrone Him!
**********************