Dear Friends & Prayer Partners,
I thought it might be interesting for you to hear Rick preaching in Ukraine with a translator.  Sergei Golovin sent me this link:   https://www.youtube.com/watch?v=ignpDhdxLtA&feature=youtu.be
Those of you who have computer access and wish to do so can check it out.  I couldn't get the music to come through, but if you move forward a little after you get the link opened, you can see and hear Rick and hear his translator.  (I was hoping to hear the music too, but even though it shows the worship team, there was no sound with it, at least that I could get.)
Zhenya Molodchy wrote the following in his recent newsletter:
"…The week Rick was in Kharkiv was very packed.  We had speaking appointments at the "Beginning of Wisdom School", churches, rehabilitation centers, and small groups.  We did not have much time, so we had to schedule one particular meeting two hours before the departure of Rick's train to Kiev.  I am so glad that meeting happened because we met with Sergey and Yulia Smolenskiy, with whom we have been working for about 10 years….."  Please pray for them to become committed followers of Jesus.
"When Vitaliy Sorokun introduced me to the New Hope Church before I preached and had the seminar, he told them that he recently read 'More Than Conquerors in Cultural Clashes' – and loved it!  He especially likes the fifth chapter, 'Passion for Purity' – and he exhorted the congregation to develop a passion for purity (and to read the book).  Praise God!"
"I just wanted to tell you how much we enjoyed Rick's visit to see us last week!  It was SUCH a blessing, and we were delighted to get caught up a bit, show him and the Golovins around Ternopil, and we got to take him to the property where we are building our house!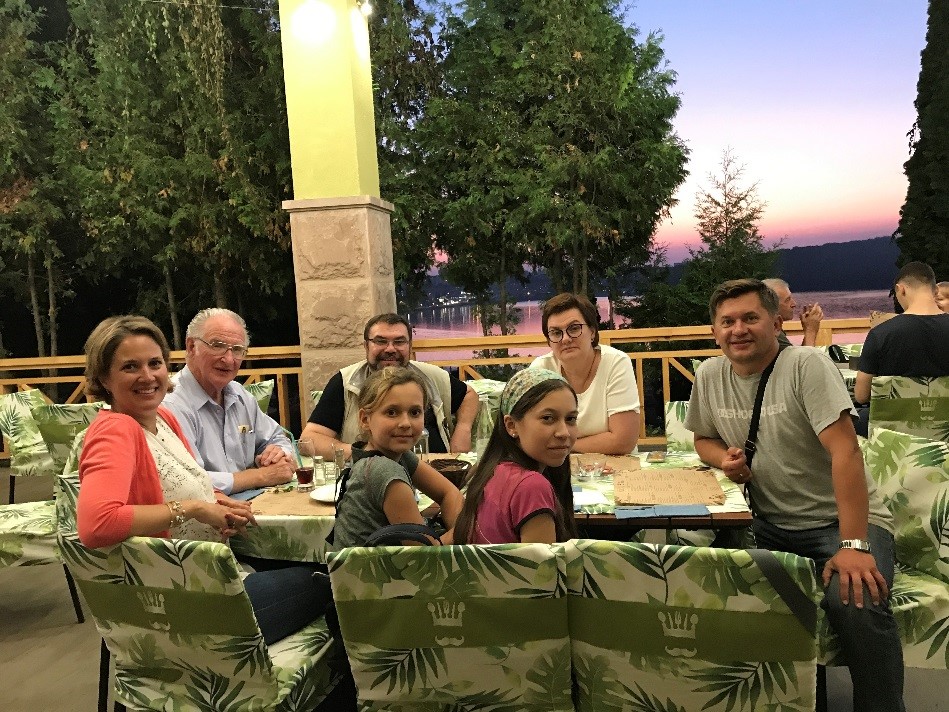 As always he was such an encouragement!  Thank you also for the financial blessing he left for us, so timely and appreciated!
We look forward to seeing you next summer when we will be in the States for our furlough!
Love to you all,
Ruslan, Sharyn, Gloria, and Emily" (Borodin)
  Teaching at YWAM in Kiev
This is the group that Katie Hartrampf, a young lady from
here in Idaho, is working with.
However, she was unable to attend the day Rick taught there because she was ill.
Send-off Party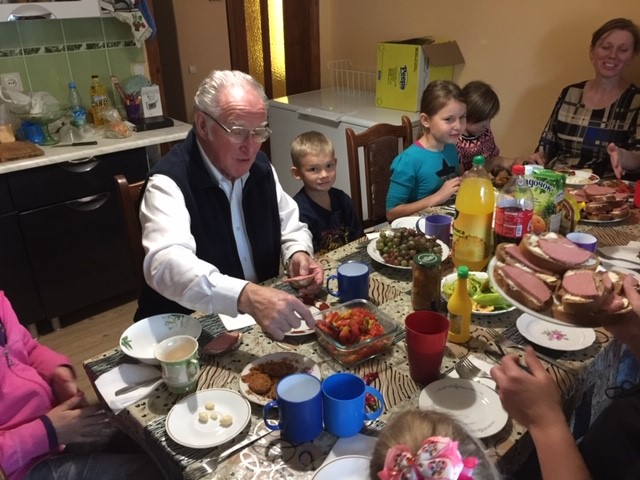 Rick is on his way to Odessa at 11:00 pm. Ukraine time. It was a blessing to have your
husband with us this week.
In Him
Stephen
Love Cradle International
Pray Before……
 I recently read an account of a writer's conference – back in the days before computers, when typewriters were still used.  The woman who wrote the story told about a well-known author who sat down at the typewriter next to her.  After he put a sheet of paper in the typewriter, he just sat there looking at the paper, as if he couldn't think what to write.  Finally she said to him, "Stop staring at the white space."  He briefly glanced at her with a bit of a smile – then he continued to look at the paper in front of him.  A little while later, he began to type.
The next morning, this same man taught a class at the conference.  He explained that whenever he sat down to write, he always prayed before typing a single letter.  Then he told the class that he even had these words taped to his typewriter:  "Pray before using."
Wow!  That made me think, "What a difference that would make if all of us used that guideline for everything!"
What if everyone prayed before using their computers? The unwholesome and corrupt things available there would lose their appeal.  Oh yes, since computers seem to do what they want to do – not what I want them to do, maybe praying first would also make a difference in my frustration level, do you think?
Pray before speaking? Wouldn't our words be uplifting to others, not angry or hurtful words?
Pray before driving our cars? Almost every time I get ready to drive somewhere, I ask God to help be an attentive, careful driver, so that I don't injure anyone or damage anyone's property.
Pray before watching TV or movies? Wouldn't that affect the choices made?
Pray before sharing Jesus with someone? If we asked God to open hearts and minds,  if we asked Him to give us the right words and manner as we share, wouldn't our witness be more effective?
Which reminds me…..Rick and I are very grateful for all of you who pray for both of us when Rick is gone on one of these mission trips.  We know that those prayers make a difference and we thank you!!!
Because He lives!
Della
 For Your Information
For some unknown reason, sometimes the postal system returns to the sender, mail that has been sent to us, saying it is undeliverable.  We have asked about this at the post office, but they cannot give us an answer about why it is happening.  They have assured us that our names and "Overseas Outreach" are all included on the side of the P. O. Box where the mail is sorted.  We are sorry if you have had to deal with this inconvenience.
So, if yours is returned, please try sending it again.  We are still here, we still have the same P. O. Box number, and the fees are paid up to date.  Thank you!
~ ~ ~ ~ ~ ~ ~
Rick had written the following to share in an earlier prayer letter, but ran out of room, so he asked me to share it this month.
Powerful Quotes To Stir Your Gray Matter 
I want to start this series of quotes with the man who is widely acclaimed as one of the greatest authors of the 20th century and one of the best apologists for Christianity, C. S. Lewis. This quote is about the privilege and power of making choices, which is one of the distinguishing marks of humans being made in the image of God.
"I would much rather say that every time you make a choice you are turning the central part of you, the part of you that chooses, into something a little different from what it was before.  And taking your life as a whole, with all your innumerable choices, all your life long, you are slowly turning this central thing either into a heavenly creature or into a hellish creature:  either into a creature that is in harmony with God, and with other creatures, and with itself, or else into one that is in a state of war and hatred with God and with its fellow-creatures, and with itself.  To be the one kind of creature is heaven:  that is, it is joy and peace and knowledge and power.  To be the other means madness, horror, idiocy, rage, impotence, and eternal loneliness.  Each of us at this moment is progressing to the one state or the other."   –  C. S. Lewis, p.92,  "Mere Christianity".
The next quote illustrates the negative part of the power of choice – because it is a quotation from mass murderer, Adolf Hitler – one of the most despicable characters in history. Hitler chose to read, believe, and apply the writings of Charles Darwin and Friedrich Nietzsche to his push for power.  This quote was found on a plaque at the Auschwitz death camp:  "I want to create a generation devoid of conscience – impervious, relentless, and cruel."  –  Adolf Hitler.
Yes, choices have consequences! 
Now in contrast to the grim and dark shadow of Adolf Hitler, here is a powerful quotation from George Washington, the first president of the U.S.A.
"Truth will ultimately prevail where there are pains taken to bring it to light." – George Washington.
Let's pray and each do our part to bring truth to light! 
Next I want to share a quote from a new friend, Kim Rinker, who chose to go on a mission trip to Ukraine last winter with an organization named ServeNow. "I have a friend who I haven't talked to in a couple of years. He called out of the blue just after I returned home.  He was busy telling me about a new exercise/diet routine he's on.  After about 20 minutes, he asked me how I was doing.  After I told him a little about Ukraine, he stopped me and said, 'Here I am talking about this stupid diet, and you're out changing the world!  Tell me everything!'  I have not come across anyone, Christian or not, who doesn't want to hear all about it!  What would I and everyone I know have missed out on?  NOT GOING!!!"
Since the most important truth that we can bring to light is the gospel of Christ, I want to first share the apostle Paul's description of the gospel: "Now I would remind you, brothers, of the gospel I preached to you, which you received, in which you stand, and by which you are being saved, if you hold fast to the word I preached to you—unless you believed in vain. For I delivered to you as of first importance what I also received: that Christ died for our sins in accordance with the Scriptures, that he was buried, that he was raised on the third day in accordance with the Scriptures, and that he appeared to Cephas, then to the twelve." 1 Corinthians 15:1-5 (ESV).
Steven Lawson of Ligonier has pertinent and potent comments for us to consider about the gospel:
"Dear Mr. Deighton,
The gospel can never be a side issue in our lives.  That should not be a radical thought, but in the modern church it too often is.  We see too many churches trusting in programs and appeals to the culture in order to fill pews, hoping to win people to Jesus by entertaining them.  Others focus on what is trendy at the moment, preaching a worldly message to win the favor of the world.  Good intentions usually motivate such efforts, but they are doomed to fail and to produce no lasting spiritual fruit.  Why?  Because God does not put His power there.
No, the power of God unto salvation is the gospel (Rom. 1:16-17).  As Paul tells us in Romans 1:1, the gospel is 'the gospel of God.'  It is not merely a gospel about God – though it is that – but it is a gospel that belongs to God.  The gospel is authored by Him, empowered by Him, blessed by Him, and used by Him to save a people for His own glory.
Because it is God's gospel, it possesses many of the same qualities as God Himself.  It is an authoritative gospel, carrying the very authority of our Creator.  It is a powerful gospel, attended by His Holy Spirit to convert all whom He chooses.  It is a gracious gospel, born from the mercy of the Lord to undeserving sinners.
Our responsibility is to be faithful stewards of the gospel, to take it as it is revealed in Scripture and to proclaim it to others without changing it.  I believe we are called to steward this gospel wherever God has placed us and to support others who are faithful in this ministry."
~ From Steven Lawson of Ligonier Ministries
Now, in contemplation of the power of the gospel and the need to bring truth to light, let's consider this quotation from missionary Jonathan Goforth: "We have all eternity to tell of victories won for Christ, but we have only a few hours before sunset to win them!"
"The most dangerous temptation is to do the right thing in the wrong way!" ~ Ravi Zacharias. Therefore, let us seriously ponder these passages:
"Walk in wisdom toward outsiders, making the best use of the time. Let your speech always be gracious, seasoned with salt, so that you may know how you ought to answer each person." Colossians 4:5-6 (ESV)
"And the Lord's servant must not be quarrelsome but kind to everyone, able to teach, patiently enduring evil, correcting his opponents with gentleness. God may perhaps grant them repentance leading to a knowledge of the truth, and they may come to their senses and escape from the snare of the devil, after being captured by him to do his will." 2 Timothy 2:24-26 (ESV)
I'm closing this section with a quotation I heard on the radio, but I do not know the origin of this quote. However, it has a powerful message for those in grief – whose lives and hearts are broken. Sharing this quote with someone with a broken heart may open wide the door of that heart to the gospel.  "If God can paint a rainbow from the weeping skies above – think what He can do with our teardrops and His love!"    "Now to him who is able to do immeasurably more than all we ask or imagine, according to his power that is at work within us, to him be glory in the church and in Christ Jesus throughout all generations, for ever and ever! Amen." Ephesians 3:20-21 (NIV).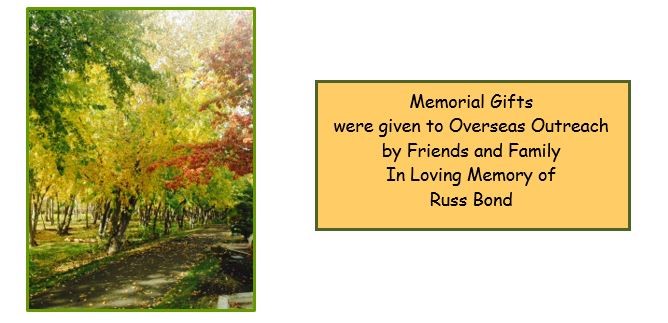 Prayer Requests
Please keep praying for Rick – he is scheduled to fly to Germany on October 9th, and he has some train travel before that. Pray for guidance and wisdom as he finishes his schedule in Ukraine.
Praise God for the wonderful friends, who have helped to facilitate emails between Rick and me.
Rick will be travelling home on October 15. Please pray for his safety all the way.
Remember the upcoming elections. Here is a brief quote from AFA Action Alert:
"The upcoming midterm election is critical. Imagine the impact liberals would have on America if they gained control of either or both chambers of Congress? As people of faith, we can have a tremendous impact on the future of our nation if we only vote and vote wisely."
Closing Thoughts
This morning as I was sitting in my chair, reading from my devotional book, I read these words of an old favorite hymn by George Bennard:
"Oh that old rugged cross so despised by the world
Has a wondrous attraction for me;
For the dear Lamb of God left His glory above
To bear it to dark Calvary."
 I looked across the room to some pictures we have on the wall,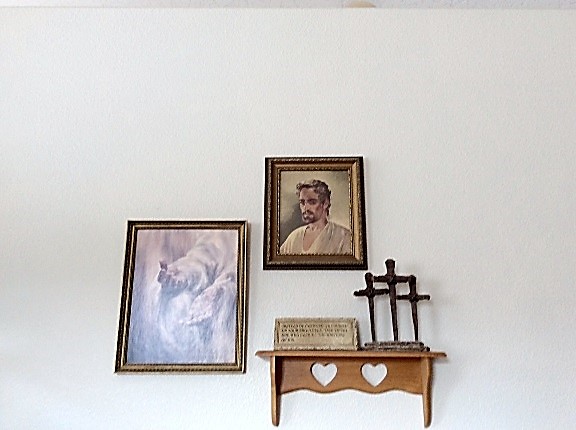 and my eyes filled with tears as the following prayer welled up in me.   "Lord, help me to live my life in such a way that You will know my
gratitude for your willingness to die an agonizing death on the cross
for me."
Thank you, Jesus!!!