Faithfully Fine-Tuning our Focus
I believe that it was Bob Russell I first heard use the phrase, "keeping the main thing the main thing." It is a valid (and much-needed) principle for living life to its fullest and fulfilling the call of God for each of us to live life to His glory with the particular gift or gifts He has given us. There is no doubt that we are, in fact, living in turbulent times, whether it's Covid-19, fires, floods, mega-storms, police brutality, rioter brutality, looting, robbing, killing, political pandering, gender confusion or general craziness. I'm reminded of the distressing, confusing, rioting times in the late 1960's when I was a young preacher in Eugene. I became so focused on the bad news all around me that I lost focus on the Sovereign Lord above me and sunk into depression. To get out of the sink hole, I had to stop watching and reading news reports for a while so I could refocus on Christ and His precious, powerful promises. Spending alone time with Him in His Word and prayer lifted me from the quicksand pit of personal pity ("poor me"). A good friend shared with me Psalm 42:5: "Why are you cast down, O my soul? And why are you disquieted within me? Hope in God, for I shall yet praise Him for the help of His countenance." (NKJV)
From verse 5, I went back to 42:1-2a, which reads: "As the deer pants for the water brooks, so pants my soul for You, O God. My soul thirsts for God, for the living God." Psalm 42 has only 11 verses, and verse 8 reads: "The Lord will command His lovingkindness in the daytime, and in the night His song shall be with me—a prayer to the God of my life." Then verse 11 is the refrain once again: "Why are you cast down, O my soul? And why are you disquieted within me? Hope in God; for I shall yet praise Him, the help of my countenance and my God."
Now I listen to news reports as prayer requests, and try to always practice what the apostle Peter commanded by the Spirit: "Therefore humble yourselves under the mighty hand of God, that He may exalt you in due time, casting all your care upon Him, for He cares for you. Be sober, be vigilant; because your adversary the devil walks about like a roaring lion, seeking whom he may devour. Resist him, steadfast in the faith, knowing that the same sufferings are experienced by your brotherhood in the world. But may the God of all grace, who called us to His eternal glory by Christ Jesus, after you have suffered a while, perfect, establish, strengthen, and settle you. To Him be the glory and the dominion forever and ever. Amen." 1 Peter 5:6-11 (NKJV)
Do you remember that it was Peter who also walked on water with Jesus? He was doing great while he kept his eyes on Jesus, but when he shifted his focus to the turbulent waters, he sank! What did he do then? He looked to Jesus and shouted, "Lord, save me!" Jesus will also lift you up!
By the way, Peter was the only disciple who had the courage to walk on water when Jesus invited him to come. The rest didn't dare get out of the boat. If you haven't yet walked with Jesus on turbulent waters, pray for the courage to get with it! Why? People need the Lord! In a world of hurting hearts and broken dreams, people need the Lord!
Here is part of a letter I recently wrote to a few friends:
It's too easy for me to get my focus wrong. Each month I get Verdict magazine, published by "The Judicial Watch." I try to scan it and pray about the issues, but I seldom read it in depth. Why? I'm glad they are fighting the corruption, but I don't want my attention to be focused on how deep and wide the corruption is, but rather on how deep and wide the power and love of God are!
We are to be "looking unto Jesus, the author and finisher of our faith." I want to be concentrating on the Conqueror above me, not the corruption around me. That way it is so much easier to function as "more than conquerors" in our cultural clashes. Why did David conquer Goliath while Saul and his trained soldiers were shivering in their sandals? Because they were comparing themselves with the mighty warriors in front of them instead of comparing Goliath (pitiful, puny Goliath) with the Conquering King of the universe – that's why!
I recently read the classic leadership book, Wooden on Leadership. Why did John Wooden become one of, if not the most, quoted and honored coaches in history? He never! never! studied or focused on the strength or tactics of the opponents. He trained each player to focus on doing his dead level best. If each one did his best individually and as a team player – they would be successful. He didn't focus on winning. He focused on helping the team do their utmost – their very best!
I'm now almost finished reading John Maxwell's ultimate training book, The 21 Irrefutable Laws of Leadership. Yesterday I read where he said, "John Wooden is my hero!"
"For though we walk in the flesh, we do not war according to the flesh. For the weapons of our warfare are not carnal but mighty in God for pulling down strongholds, casting down arguments and every high thing that exalts itself against the knowledge of God, bringing every thought into captivity to the obedience of Christ, and being ready to punish all disobedience when your obedience is fulfilled." 2 Corinthians 10:3-6 (NKJV)
Respectfully yours & His,
Rick
From Our Mailbox
"Thank you so much for reaching out with your words of encouragement! As I mentioned in this column, I always pray to deliver whatever message God would use me for – so it touches me to hear that having Him working through me is reaching and encouraging people!
Della has quite a testimony! When I read the word 'TB' my heart skipped a beat – I remember when I was in high school and the VA thought my Uncle had it, and the realization of what a scary diagnosis that could be! Bless her heart! I've moved it over to a word document and will forward it on to our editor, Gaye, for consideration…
May God continue to bless you in your ministry! We live in uncertain times, but I believe that we are about to experience a huge revival here in our community – if not nationally!
Sandy Jones"
"Christian Living" Magazine
* * * * * * * * * * * * * * * * * * * *
"Our daughter, Debbie, just gave me your books and the envelope full of your publications, including Della's heart-warming testimony. I praise God that Della's Christian friends encouraged her to turn away from a bad relationship and to seek God's will in her life. Now, look at the magnificent way God is using her and you too, to spread the good news about Jesus in Ukraine and beyond. What an inspiring story.
Thank you for your partnership-in-Christ.
With appreciation and brotherly love,
Dick Ady, World English Institute"
* * * * * * * * * * * * * * * * * * * *
"Thank you for keeping me on your mailing list. And I would thank you also for your article in One Body entitled "Why Creation Matters" – it was most excellent – outstanding. I do not know if you have available a list of books that you have written. If so, would you please send me a copy of such list? Please use the enclosed small gift in whatever way you see fit to advance the kingdom of my Dear Lord Jesus Christ. May He continue to bless you and your wife as you serve Him.
Ken Morris" (Tunas Christian Church, Tunas, MO – a church where I (Rick) served while a student at Ozark Christian College)
* * * * * * * * * * * * * * * * * * * *
"I just finished reading the current issue of One Body. As usual, I enjoyed all of it, but I especially enjoyed your essay on "Why Creation Matters." It is disturbing to me that so many preachers and teachers have adopted the 'millions and millions' of years.
I would love to have a copy of your brochure on "Why Creation Matters." Thank you for making that available.
Larry Branum"
* * * * * * * * * * * * * * * * * * * *
"This is very interesting. Thank you very much for the invite! Though I will need to respectfully decline this time, please keep me in mind for future projects or trips. Please also let me know if there is any finding during the dig.
God Bless, You, Your wife, Your kids, and Your ministry. May God give you the energy of a young man, a Godly energy that can keep up with your burning passion to spread the Gospel.
– Nathan Nunes"
* * * * * * * * * * * * * * * * * * * *
"Encouraged! Blessings on your radio program. Keep me posted on when it starts."  – Steve Bragg
* * * * * * * * * * * * * * * * * * * *
"Thank you for sending your April newsletter. It was good to hear from you once more.
Reading your letter presented, in part, an encouraging reminder of our indebtedness to and need for Christ. It had a decidedly evangelistic (with a bit of apologetic) tone. At the same time, we were sorry to learn of your friend George Swanson and the death of his wife. We have prayed that the Spirit of God will comfort him in the midst of his grief. In addition, glad that Sergei Golovin's family has been reunited and seeing the challenges that they, as so many others are facing these days, we have asked our Heavenly Father to provide for and protect them and the ministry in which they are engaged. Beyond that, we have remembered Stephen and Ira Yagilnicky, asking God to provide for their needs and to cause the work of Love Cradle International to prosper. Finally it was good to see you include Ravi Zacharias in your letter. Since receiving that earlier news, we have understood that he has returned home to be with his loved ones after receiving the report that there was nothing more the doctors could do. Our prayers are with him and his family as well.
Again, thanks for keeping us on your radar. We trust you and Della are continuing to see the Lord at work in and through your lives (and we pray that Della is feeling better). Enormous blessings to you!
Sincerely,
David Harleyson, Office of the President (Dr. James Dobson's Family Talk)"
* * * * * * * * * * * * * * * * * * * *
"Pardon my late response. Hope you and Della are keeping well in the midst of this 'crisis'.
Thank you for sharing the 'Voice of the Martyrs' articles once in a while. They are indeed encouraging and serve as good reminders for me to pray about what is happening in India.
I finished my masters' degree here. I am currently working as a tech support agent in Telstra, Australia's biggest telecom company. I hope to continue in this job until I find a job in my field.
One of the staff at university to whom I wrote a gospel letter and gave a Bible as a birthday present got back to me a couple of months ago and said, 'Hey Paul, I got your number from a colleague at work. I hope you won't mind. Life has been crazy for me lately and I am wondering if perhaps this is a good time to open the gift you gave me. Do you have any recommendations for me as to where to begin?'
My heart leapt for joy when I read the message on the phone. I got back to her and suggested her to start from the gospel of Luke. I created a password-protected website for her which only we two can access. She shares her thoughts and reflections there and I respond to them and/or share additional resources for her. Last week I made a small video clip arguing for the validity of the Biblical claim of the resurrection of Christ. She responded to me by saying 'I never doubted Jesus existed. I always thought that his death was a misdiagnosis.' She shared a link to an article online talking about how people in olden days used to be misdiagnosed often as dead when they are not. She also said the argument I gave in the video is compelling to her in light of what she read in her history class in school about the persecution of the early Christians. I will make a follow-up video soon. Pray for her. I know that as I continue to walk with her in her investigation of Christianity, we will eventually come to questions like, 'but what about the creation account? How can we believe it with so many advances in science?' Pray for boldness for me to speak the truth without any hesitation.
Still hoping that I can see you someday on this earth before the Lord comes back or takes us home.
Yours and His, Paul" (Sudhakar)
Below is One Reply I Sent to Paul:
Your most recent email is also an inspiration to us (and I think it will be to others who read our prayer letters). We will pray for your 'Mum,' as well as for those you influence with your videos in Telugu and English. (Russian too?) We are so thankful that you are serving as a bi-vocational evangelist by working the job that God has given you for your income – then sharing the gospel with strong evidences out of the fire of zeal for truth that our Father has put in you by His Holy Spirit and your love of Jesus. I'm proud of you!
Has your health improved? I'm still praying for your health (as well as for your 'Mum' – Australian dialect). Congratulations on both your Masters' degree and your good job! Does your dad want you to get a Ph.D. in astrophysics next? If so, will you be able to pursue that goal in Australia? Will you be able to keep your good job?
Did you see the broadcast of the memorial service for Ravi Zacharias? It was outstanding! There were nearly 80,000 viewers worldwide that day. Probably many more now. Almighty God sure does a fantastic job producing evangelists from India! ?
Respectfully yours & His,
Rick
+ + + + +
"Thank you for the update on your and Della's health. I will continue praying for her. My Mum, although much younger than Della, started experiencing knee pains. I think her extraordinary hard work to care for the family (and negligence towards her own well-being) resulted in the damage to her knees.
I recently spoke to her about her pains and found that her biggest concern now is that she can't kneel down before the Lord in prayer. I said, 'if he chooses to heal you, you will kneel again. If not, you won't. But, your prayers won't stop, will they? If he gives us the ability to speak, we pray and praise him out loud. If he makes us mute, we will pray quietly inside. Our prayers won't stop, will they?' We both smiled and rejoiced in the goodness of God. So, I am really thankful to God that He made Himself known to us and filled us with the joy of Salvation. The hope we have in Him surpasses all these sufferings.
Sure, Rick! Feel free to share my letter ?
I started making videos for Muslims too. I recorded my first video in Telugu (my mother tongue) last Sunday. In that video, I compared the teachings of Muhammad and Jesus and asked this question: 'If, as the Quran claims, both Jesus and Muhammad are sent by Allah, as his prophets, why are their teachings mutually contradictory?' I know, a lot of Muslims say, 'They are not. They used to be the same. But Christians corrupted the Bible.' So, I spoke about it too and asked this question: 'Why do you Muslims keep saying the Bible is corrupted, when your prophet and your own 'perfectly preserved' holy book claims, more than ten times, that the Bible is God's Word and that Jews, Christians AND Muslims should follow it? You may argue that the manuscripts we have from the 1st century are already corrupted and that we never got to see the uncorrupted manuscripts at all. But you can't argue that the Bible used by 6th century Christians is not the same as what we are using today. It is exactly the same. And your prophet said, 'the Bible in use at his time is God's Word and that we all should follow it.' Now, if the Bible is indeed God's Word, then the Quran is wrong because it contradicts the Bible. If the Bible is NOT God's Word, then the Quran is wrong again, because it says that the Bible is God's Word. Either way, the Quran destroys itself. How can you still believe it to be true?
I sent that video to a Muslim doctor in my village. Pray for him too that God should work in his heart.
Here is the link to my YouTube channel. I will be posting new videos every week on this channel from now on: https://www.youtube.com/channel/UCuVqs438xuf2oLwlDq7OjGA/featured?view_as=public
Yours and His, Paul (Sudhakar)"
+ + + + +
"Thank you for your prayers! I prayed for you and the whole of America, this morning. It is saddening and also sobering to see the way the Left is tearing down the country and stirring up racial divisions. As always, the only comfort is that nothing escapes our Sovereign Lord's knowledge and he is still in control. Let me know if you are affected by the riots and looting….
Longing to see you once again, in person,
Yours and His,
Paul (Sudhakar)
P.S. Yes, Telugu is different from Tell-a-guru" ?
* * * * * * * * * * * * * * * * * * * *
"God bless America and God bless you two and all you do for Jesus!! A love offering for you to use where it's needed most. I just want to tell you I love your newsletter every month. I do pray for all you do for Overseas Outreach.
Love in Christ,
Vi Radabah"
* * * * * * * * * * * * * * * * * * * *
"Don't Limit God in Troubling Times"
"How could we expect God to answer prayer for abundant provision when it is obvious that supplies are limited? How could we at Creation Experience Museum ministry expect God to provide funding for a new museum building when we don't even have any visitors coming to the museum because of the corona virus, which has brought everything to a standstill? Wait a minute! Has the corona virus brought God to a standstill? Does God have to wait patiently until things get back to so-called normal before He can once again begin to answer prayers? Surely we know the answer. God may actually do more in the way of answering prayers for provision during times of scarcity and material hardship just to show that He is God! It is my personal belief that this is something God would delight in doing. We should never limit God. The Bible is full of God's supernatural provision seen throughout history. Some of these instances are thrilling to read about.
Elijah of the Old Testament is an example of God providing miraculously for him personally during a time of famine. Elijah himself was the instrument God used to bring famine to the land of Israel because of their wickedness in serving the pagan god Baal instead of the true God of their fathers…."
– Rod Butterworth, Creation Experience Museum
Prayer Requests
Our book, Is the Bible Without Any Errors?, is now translated into Russian and double checked. Praise God! There are still some technical hurdles for Sergei Golovin to get it published and posted on the Christian Center for Science & Apologetics outreaches, so please pray for wisdom for him and funds for this project (and funds for print copies if God so wills), as well as for it to be effective and inspiring.
Please pray for courage for Christians world-wide to be bold witnesses for Jesus and especially for persecuted believers in at least 50 to 60 nations. June 29 is designated by Voice of the Martyrs to be a day of special remembrance and prayer for persecuted believers. You can learn more from their website: www.persecution.com. President Trump recently signed an executive order to promote religious freedom world-wide. Praise God!
"Who will go for us?" Isaiah heard this question from Almighty God, the Lord of Hosts – and he responded, "Here am I – send me!" Do you remember and realize that in the past three months our Father has called Home two incredibly effective international evangelists – Reggie Thomas and Ravi Zacharias? Who is going to take their places? Do you hear God calling you? So, whether you are a ten talent, five talent, or one talent believer, are you willing to respond, "Here am I – send me!"? Whether it is across the street or across the sea – are you available? Awesome God is more interested in your availability than your ability. He can and will equip you – but He will not deprive you of your free will because He created you in His own image!
Please pray for God's clear leading for me about launching a radio program focused on, "What Is a Biblical Christian Worldview?"
In July I'm scheduled to participate in a new fossil dig at the Paluxy River near Glen Rose, Texas, as well as speaking appointments in Texas. Please pray with us for a productive trip for God's glory.
Please pray with us for Edward Pintya to become a student at Ozark Christian College by second semester. If you would like to help, please let us know!
Please pray with us for Paul Sudhakar's effective outreach to others with apologetics, kindness and compassion, and for God's continued leading in his life.
Please pray with us for Planned Parenthood to be finally and fully defunded of all tax dollars. What do you think would be the response of most media outlets if prominent pro-life groups promote, Babies Lives Matter! "Red, and Yellow, Black and White – They Are Precious in His Sight!? Jesus loves the little children of the world!"
A Note from Della: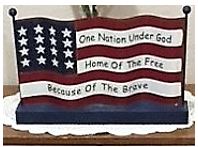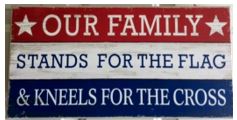 A few days ago, I was again thinking about Memorial Day, which we just celebrated last month.  While I was shopping at Hobby Lobby, I found a couple of pictures, which express my feelings of deep appreciation for our country and for our military.
Note:  In "Introducing the Murphy Family" in the 3rd point, we mention that John wrote a book "A Dumb American in a Strange Country:  Finding God Where You Least Expect Him!"  If you would like to order a copy of this book, you can contact him at: <MurphMission@hotmail.com>
Introducing the Murphy Family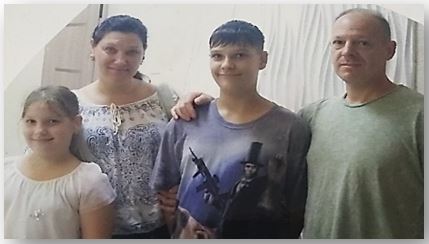 I first met John Murphy about 16 or 17 years ago on the steps of Christian Open University in Odessa. The Director and I had a good visit in German, and we were on our way outside when we met John coming up the steps. Rostislav pointed to John and said, "Oh! Here is another American – you probably already know him!" I didn't, so he introduced us. John already had quite a track record of effective ministry in Ukraine. For example:
1st – He was one of the church planters for Christian Life Church in Kharkov (Kharkiv), which became the home church where Zhenya Molodchy gave his life to Christ.
2nd – John's persistent and relational outreach to Crimean Tatar people in the Crimean Peninsula had resulted in a breakthrough with that very hard to reach people group.
3rd – John wrote a testimony book entitled "A Dumb American in a Strange Country: Finding God Where You Least Expect Him!" (Note: I think this book could and should be required reading for cross-cultural missionaries.)
John married a lovely Crimean girl and moved with her to Odessa for her musical training. Now for nearly 20 years (and against all odds), John & Ira have been reaching out to the lost and lonely, the destitute and forsaken through church planting and compassionate outreaches. Here is a small glimpse of their current ministry.
Our Soup Kitchen Outreach Ministry
Over the past year, our soup kitchen has allowed us to share the gospel with literally hundreds of individuals while giving them a hot meal in Jesus' Name. Consequently, we saw surprisingly large numbers at our mid-week Bible studies where light refreshments were also provided. When our screening process began, though, involving a deliberate change of venues and the halting of all manner of food distribution, the numbers rapidly dwindled. Still, there were folks who remained, yet later left due to other reasons. Nonetheless, a handful of people have stayed with us throughout and gradually continue to grow in the Word.
Preparing for the Future
Iryna and I chose to donate our long-awaited apartment to the Odessa Mission. At first, we planned to sell it and possibly buy a church office. The problem is that we're mainly reaching impoverished retirees who surely won't be able to shoulder that financial burden long-term. Perhaps the most common cross-cultural ministry Achilles Heel is starting a work only to leave it high and dry without any real sustainability. To avoid that we've opted instead to renovate/furnish the apartment from the ground up and have the mission rent it out for the purpose of generating revenue that'll likely provide longevity for this important work and boost production. That notwithstanding, this costly endeavor greatly exceeds the means of our mission budget, which is why Iryna and I have taken out a personal loan to handle the bulk of the expenses for now. Hopefully in time, the mission will gradually be able to reimburse us once the apartment is operational.
We're finding the culture here to be perhaps the biggest obstacle of all, but like Noah, Jeremiah, and Paul we remain committed to "planting the seed" (1 Cor.3:6) even "out of season" (2 Tim.4:2) when myths resonate over truth (2 Tim.4:4) in order to "fully carry out" and "complete" the task God has given us (2 Tim.4:5).