A Demonstration of Atheistic Foolishness
Psalm 14:1 says: "The fool says in his heart, 'There is no God.' They are corrupt, they do abominable deeds; there is none who does good." (ESV) In Hebrew writing, repetition is used for emphasis, so it is not by accident that Psalm 53:1 reads: "The fool says in his heart, 'There is no God.' They are corrupt, doing abominable iniquity; there is none who does good." (ESV)
Not long ago I heard a story from the 1800's that is an excellent illustration of atheistic foolishness. Famous atheist, Robert Ingersoll, gathered a crowd and shocked some people with his brazen accusations against God. He declared that if the God of the Bible exists, he is a cruel bully who wipes out whole populations of "innocent people," etc. Then he made the absurd claim that he was going to prove that God does not exist. (Even Richard Dawkins seems to realize that you cannot prove a universal negative.) So how did he propose to prove that God does not exist? He did so by challenging God to strike him dead. He asserted that since everyone in the crowd had heard him utter flagrant blasphemies against God, he would give God the opportunity to prove His existence by striking him dead. "God, if You are there, if You exist, I dare you to strike me dead for blaspheming Your name! I'm giving you five minutes to prove You exist!" With an arrogant confidence, he looked at his watch and invited everyone else to do the same.
A preacher standing next to a godly theologian nudged him and asked, "What do you think of that?" He simply smiled and said: "He thinks he can exhaust the patience of the eternal Creator in five minutes." Obviously, Ingersoll had no concept of the love of God and His amazing grace! I hope he learned, repented, and was converted. Many atheists have been.
The Time Factor
Robert Ingersoll tried to pressure God Almighty into submitting Himself to a foolish challenge, and to respond in his time frame demand. Our God, who is Love, chose rather to demonstrate His grace and patience. Besides, He is Almighty God! He is Sovereign! He did not submit to the arbitrary time factor placed on Him by a puffed-up puppet of his own perverted perceptions.
Modern day puppets of perverted philosophies like to pontificate that either God is not all powerful or God is not all loving. Their proof? They think it is obvious because there is suffering and death in the world! So, if God exists and if He is Love, then He would certainly heal everybody and wipe out all suffering. Either He doesn't exist, or He is not all powerful, because if He is Love, then He would use His power to eliminate suffering – NOW!
Do you see the connection between these pontificating philosophers and the foolish atheist in the first story? These puffed-up puppets of their own philosophy are also ignorant of or ignoring The Time Factor! They are expecting the Eternal God of the universe to bow to their conditions and function in their limited time frame. What are they forgetting? The Time Factor!
During His ministry on earth, Jesus, our Creator, was often pressured to openly declare that He was the Messiah.  His response: "My time has not yet come!"  Almighty God does not submit Himself to time pressure pushed on Him by puny humans!
Eternal God has his own plan and functions in His own time frame according to that plan.  "But when the fullness of time had come, God sent forth his Son, born of woman, born under the law, to redeem those who were under the law, so that we might receive adoption as sons." Galatians 4:4-5 (ESV)
Our Everlasting Father is also our Wonderful Counselor, and He did not create a fallen, corrupted world of suffering and death.  The suffering and death are the result of the cursed earth that came because of human rebellion.
There is a Day of Judgment coming, in which there will be a final reckoning and cleansing of all injustice and unrighteousness.  Are you ready to stand before Him?  He has been patiently calling you Home and waiting for you to repent and submit to Him as Lord and Savior.  Will you come Home now?  The apostle Paul wrote: "For we must all appear before the judgment seat of Christ, so that each one may receive what is due for what he has done in the body, whether good or evil. Therefore, knowing the fear of the Lord, we persuade others. But what we are is known to God, and I hope it is known also to your conscience…. Therefore, we are ambassadors for Christ, God making his appeal through us. We implore you on behalf of Christ, be reconciled to God. For our sake he made him to be sin who knew no sin, so that in him we might become the righteousness of God." 2 Corinthians 5:10-11, 20-21 (ESV)
After that final Day of Judgment, He is going to provide for His chosen ones a new heaven and new earth wherein righteousness rules and He will wipe away every tear from our eyes! He will provide His promised paradise to His forgiven and perfected people by His amazing grace! Will you put your trust in Him – now! Now is the acceptable time! Today can be your day of decision! Peter said: "Repent and be baptized every one of you in the name of Jesus Christ for the forgiveness of your sins, and you will receive the gift of the Holy Spirit." Acts 2:38 (ESV)
Purpose & Goal of Overseas Outreach Restated and Clarified
The Purpose & Goal of Overseas Outreach is to cooperate with the Holy Spirit through His powerful Word of Truth to transform the worldview of the former Soviet Union nations from atheistic humanism/evolutionism to Biblical Christian worldview – in which evangelism flourishes.
How do we intend to accomplish such a massive and seemingly impossible goal and purpose?
First: By earnest, persistent prayer to the One true, Almighty God – Who specializes in the impossible.
Second: By partnering with like-minded Christian leaders and ministries in Ukraine, Germany and Latvia to reach children, youth, college and university students with the gospel and train them in Biblical Christian worldview, assist them in planting churches, youth camps, orphan outreaches, etc. Also, to teach them to love God, His Word, His Truth, and His unreached children passionately and permanently. Our train is moving – do you want to get on board?
Third: By remembering and trusting that with God nothing is impossible! He has done it before – He can do it again.
A decree by Caesar Augustus was used by Almighty God to fulfill the prophecy of Micah 5:2 that the King of kings would be born in Bethlehem of Judea. From a manger in a stable in Bethlehem, an infant Son of a virgin mother grew in wisdom, stature and influence until He conquered sin, Satan and death and arose from the grave to transform the lives of multitudes until even the mighty Roman Empire fell before Him.
Fervent missionary, Patrick, with his 200 or so trained church planters transformed the pagan Druid culture of Ireland to a far more Biblical Christian worldview.
Our two main ways to move forward with Overseas Outreach are by: 1. Creation Evangelism 2. Compassion Evangelism.
The four main ways that you can partner with us for Overseas Outreach are:
By your earnest prayers
By your financial support
By recruiting others to also help us
By sharing our prayer letters and books with others
Thank you very much!
Clarification About Spiritual Warfare
You may be wondering if I am harboring a grand illusion (or several illusions). Therefore, I feel compelled to clarify:
First: I have no illusion that proclaiming the truth of Biblical Christian worldview is going to persuade everyone in the Former Soviet Union nations to abandon their false philosophies and flock to Christ in true conversion. Why not? Because Jesus Himself said, "men love darkness rather than the light because their deeds are evil." John 3:19. However, Jesus also exposed the false philosophies and blatant hypocrisies of Israel's leaders and rebuked them for blocking the pathway to the Kingdom of heaven. "But woe to you, scribes and Pharisees, hypocrites! For you shut up the kingdom of heaven against men; for you neither go in yourselves, nor do you allow those who are entering to go in." Matthew 23:13. I do believe that proclaiming truth and exposing falsehoods does remove some Satanic road blocks on the pathway to salvation so that evangelism can flourish.
Second: I have no illusion that all of the FSU nations are going to become "Christian nations."
Third: I have no illusion that transforming FSU nations from an atheistic worldview to a Biblical Christian worldview is going to alleviate or reduce the persecution of Christians. As more believers come flocking Home to Jesus and His Kingdom, the wrath of the enemy will likely be stirred to greater heights of intensity. That is what happened in the early centuries of the church – and is still happening. Isn't that why Jesus said this: "Blessed are those who are persecuted for righteousness' sake, for theirs is the kingdom of heaven. Blessed are you when they revile and persecute you, and say all kinds of evil against you falsely for My sake. Rejoice and be exceedingly glad, for great is your reward in heaven, for so they persecuted the prophets who were before you." Matthew 5:10-12.
Isn't persecution the reason James wrote these words to scattered believers? "My brethren, count it all joy when you fall into various trials, knowing that the testing of your faith produces patience. But let patience have its perfect work, that you may be perfect and complete, lacking nothing." James 1:2-4. Peter wrote: "But even if you should suffer for righteousness' sake, you are blessed. And do not be afraid of their threats, nor be troubled. But sanctify the Lord God in your hearts, and always be ready to give a defense to everyone who asks you a reason for the hope that is in you, with meekness and fear;" 1 Peter 3:14-15.
Persecution of believers is inevitable (and should be no surprise to us), but "it will be worth it all when we see Jesus"! "And now, little children, abide in Him, that when He appears, we may have confidence and not be ashamed before Him at His coming." 1 John 2:28.
Personal Prayer
During one of the combined worship and prayer sessions on the YWAM campus in Kiev, the student leaders asked each of us to write out a prayer, then pray out loud. Here is a copy of my prayer:
"Lord, fill me with Your Spirit, Your peace that passes all understanding, Your joy that spills over to others because of Your majestic love and grace. Thank you so much for pulling me out of my pit and rescuing me from a life of hopeless desperation in my sin and false philosophy of evolutionism.
Lord, thank You so much for giving me Della and our family. They bring so much joy and peace to me – and Lord, please lead each one Home to You for all eternity. Thank You so much for these vibrant students, and all my brothers and sisters in Christ."
From Our Mailbox
"Our dear friend Rick…very good to hear from you and how much your time with my family was a blessing to Iryna and the children.
We still do not have a replacement for Oksana and Oleg…we have had some interest but nothing to date.
Oksana's mother is doing very well and has had an uptick in her health since Oksana came home. Oksana's sister is doing well considering her cancer and therapy…her sister is able to be active and the results from the chemo have been positive.
Rick please continue in prayer with us for fellow servants/laborers to join us here in Mala Vyska…please also pray with us about our return to the US for this upcoming winter.
We are now starting on some projects around the THMC that need completion…the finishing of the second and third floors of the addition and completing the driveway/play area with the paver-blocks. Other odds and ends that need to be finished. Rick if you know of any brothers and sisters that would like to donate to something like this please let them know.
To close, Iryna's flower gardens are beautiful and giving off wonderful fragrances and the vegetable gardens are growing with much work and watering as it is very dry here…we are in constant battle against the bugs/plant mites and blights that affect gardens here. Taking the gardens indoors (greenhouses) is probably the solution…but the full operation of the greenhouses seems to be something for down the road (in His will/timing).
Happy 4th of July Rick to you and Della…greetings to Della. You folks are in our prayers.
Blessings
Stephen (Yagilnicky)"
* * * * * * * * * * * * * * * * * * * *
"Dear Rick,
Thank you for forwarding the VOM article. I am aware of the atrocities committed by RSS against Christians and Muslims in India. However, I am not aware of the exact statistics or the depths of the persecution. This article has helped me see the persecution a bit more clearly. It was sad to see the same government getting reelected a couple of weeks ago with even greater power. But yet, we rest in the comfort of the knowledge of God's sovereignty. It is He who establishes the rulers – both good and bad. And it is He who will preserve and grow his church in India.
I am also praying for America, Rick. May the Lord continue the Republicans in power. But yet again, we rest in God's sovereignty. If God chooses to elect the other side, we will seek him for strength to persevere.
Yours and His,
Paul (Sudhakar)."
* * * * * * * * * * * * * * * * * * * *
Prayer Requests
Please pray with us for the transformation of Ukraine (and all the former Soviet Union nations).
Praise God with Zhenya & Natasha Molodchy for the baptism of their teenage daughter and son into Christ – and for Masha and Yan to grow in wisdom and service for their Lord and Savior, Jesus Christ!
Please pray for Mulberry International to receive much needed funds for helping destitute families in the war zone of eastern Ukraine.
Please pray for God to provide the right couple to become co-workers/house parents with Love Cradle, International Transition Home in Mala Vyska, Ukraine.
Please pray for God to provide for the expansion of impact and influence for Northwest Science Museum.
Please pray for God to wrap Caren Hutton and her family in His Almighty Love as they cope with their loss and grief. Butch Hutton died in his sleep on June 24. Butch and Caren hosted a house church on their ranch for over 30 years, which God has used to reach and transform many lives.
Please pray for God to show if it is His will for Edward and Paul to become students at Boise Bible College by providing sponsors for them.
Forgiven! Cleansed! Redeemed!
(Poem by Shasta Hutton – Based on her Grandpa's Own Thoughts)

Sometimes I think about the things,
I've done wrong in my life,
About the times I've done the things,
That cause much pain and strife.
I feel so bad and hate those things.
I'd change them if I could,
Erase them all and start again,
And do the things I should.
I go to God and cry to Him,
"I cannot change the past.
I can't undo the hurt I've caused.
Those things will always last."
He draws me close and says to me,
"I know, my child. I know,
But that is why I shed My blood,
And still I love you so.
And all those evil things you've done,
And all you've yet to do,
Were washed, forgiven, and made clean.
You can begin anew.
And though the past can't be undone,
Redeemed it still can be.
So do not fret. Do not despair.
The future's yet to see.
Together we'll go forward now,
Into a hurting land,
And work the fields of hurting souls,
And take them by the hand.
We'll show them how they too can be,
Forgiven and made new.
And since you've shared their darksome path,
They'll listen now to you."
And as my Father speaks these words,
My faith's again made strong.
I've been forgiven, cleansed, redeemed.
With Him I can go on.
Though consequences still remain,
I'll put the past behind,
And serve my Father, God, and King,
With heart and soul and mind.

~~~~~~~~~~~~~~~~~~~~~~~~~~~~
Napoleon's Perspective About Jesus and the Bible After His Waterloo
Napoléon is recorded to have said: "I know men, and I tell you Jesus Christ was not a man. (Not 'a mere man!' R.D.)
Superficial minds see a resemblance between Christ and the founders of empires and the gods of other religions. That resemblance does not exist.
There is between Christianity and other religions the distance of infinity.
Alexander, Caesar, Charlemagne and I founded empires. But on what did we rest the creations of our genius? Upon sheer force. Jesus Christ alone founded His empire upon love; and at this hour millions of men will die for Him…
From the first day to the last He is the same; majestic and simple; infinitely firm and infinitely gentle. He proposes to our faith a series of mysteries and commands with authority that we should believe them, giving no other reason than those tremendous words, 'I am God.'
The Bible contains a complete series of acts and of historical men to explain time and eternity, such as no other religion has to offer… for everything in it is grand and worthy of God.
The more I consider the Gospel, the more I am assured that there is nothing there which is not beyond the march of events and above the human mind. Even the impious themselves have never dared to deny the sublimity of the Gospel, which inspires them with a sort of compulsory veneration. What happiness that Book procures for those who believe it!"
Remember Me, America

Remember me, America.
I was once your son.
I fought and died in Valley Forge
With General Washington.
I was there again in Gettysburg
On that tragic, tragic day,
When brother fought against brother.
The blue against the gray.
I was there with Teddy Roosevelt,
A charge called San Juan Hill.
Some came back to fight again,
But I just lay there still.
I was there at Pearl Harbor,
On a day called Infamy.
And I'm still there with my shipmates,
At the bottom of the sea.
D-day, June 6, 1944.
We stormed the beaches of Normandy.
We fought uphill every inch of the way.
We routed those Germans and we pushed them back,
But oh, the price we had to pay.
I heard the Seals say one night in Korea,
"We can take it. I know we will."
So I died again in a place they named Porkchop Hill.
Vietnam, Vietnam, when will we ever learn?
I'm one of many thousands who did not return.
I left my town, my wife, my kids, my home so dear for war.
And died again in a scud attack in a place called Desert Storm.
So in my eternity, my thoughts will go to thee.
I won't forget you, America.
But please, America, do not forget me.

"Freedom is not free!" This quotation is to remind us that although it may be free to us now – others paid the price (sometimes a terrible price). So, not only on Memorial Day, Flag Day, and the 4th of July should we celebrate our freedom and remember those who risked and sacrificed life and limbs for our freedom – but every day. Especially let's remember that our freedom in Christ from the bondage of sin, death and hell was paid for by the precious blood of Jesus! Can you hear Jesus say, "Remember Me, Christian"?
"Stand fast therefore in the liberty by which Christ has made us free,and do not be entangled again with a yoke of bondage." Galatians 5:1 (NKJV)
"And if you call on the Father, who without partiality judges according to each one's work, conduct yourselves throughout the time of your stay here in fear; knowing that you were not redeemed with corruptible things, like
silver or gold, from your aimless conduct received by tradition from your fathers, but with the precious blood of Christ, as of a lamb without blemish and without spot." 1 Peter 1:17-19 (NKJV)
"Compared with the ancient civilizations, America was born yesterday.
But, and here is the rub – she is dying today, and she will be dead tomorrow unless there is a spiritual awakening."  

~ Leonard Ravenhill (one of England's foremost evangelists),
America Is Too Young to Die, 1979, p. 29
Here is a reminder about praying for Edward and Paul:
Edward is a second-year student and Paul a fourth-year student at Christian Open University in Odessa, and both of them were my students with my lessons on Biblical Christian worldview in the English department. Both of them are committed Christians who love our Lord Jesus Christ and desire to serve Him. Edward would love to become a pilot, especially a mission aviation pilot, and I don't know yet what Paul plans to do after his graduation from OCU, but I hope to recruit both of them to become students at Boise Bible College, and to help Edward get a job at MAF. Chad Irwin at MAF told me that they won't be able to pay Edward unless he can get a green card, but he could work there as a volunteer and learn much from the pilots and mechanics.
I first met Paul nearly three years ago, but I did not know his tragic background until he shared his testimony in class this time as part of my exams for my classes on Biblical Christian worldview. Paul's dad went crazy in 2016 and tried to murder his family – then committed suicide. I did not guess that Paul had such a recent terrible experience because he has such a warm, pleasant manner, ready smile and servant spirit. Obviously, Paul has allowed trials, suffering and tragedy to draw him closer to God rather than driving him away! In the midst of the trials he chose to look up and become better, rather than to look around and become bitter. Please pray for Edward's and Paul's futures.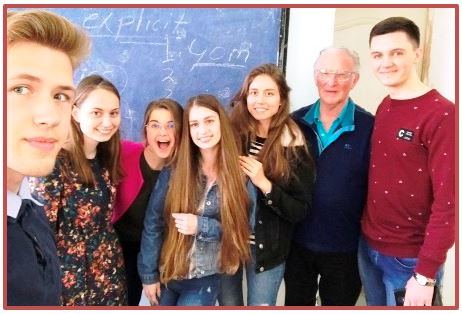 Some of Rick's students at the Christian Open University in Odessa, Ukraine. Edward is the tall young man next to Rick and Paul is on the other side of the picture .
With Deep Appreciation
We deeply and truly appreciate those of you who read our prayer letters, care, pray for our requests and support our work financially. "We always thank God for all of you, mentioning you in our prayers." 1 Thessalonians 1:2.
Final Thought
"Jesus, Who was born in history and is always there in mystery, WILL COME BACK IN GLORY!"
(Sent to us by Vlad Devakov)